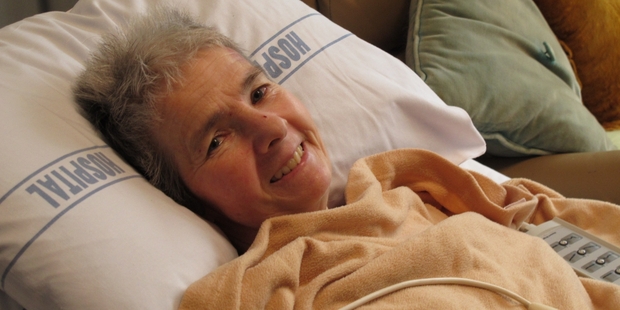 Friends of the Kaitaia woman who narrowly escaped death when a falling tree crushed her home are appealing for help to replace her wrecked furniture.
Ivy Cramond was sitting in her La-Z-Boy last Tuesday afternoon when a macrocarpa toppled by the wind pinned her between her the chair and the collapsed roof.
Kaitaia Fire Brigade volunteers used hydraulic lifting equipment to free her.
She suffered serious bruising but no broken bones. The top of her chair took the weight of the falling roof beam.
The 58-year-old was left homeless and was yesterday still in Kaitaia Hospital.
Fortunately, she now has a new home to move into and friends are collecting furniture to replace her crushed belongings.
Rebecca Ranum, of Kaitaia Timebank, said she still needed a double bed, a couch and a television.
Her TV had been "smashed to smithereens" by the tree.
Timebank members were also holding a working bee at Ms Cramond's damaged home on Korimako Lane to gather what remained of her belongings and help her at a difficult time.
Anyone who wants to donate furniture or money to help her replace smaller items can call Ms Ranum on 021-408 989.
Timebank is a service organisation in which members earn time credits by helping each other. Those credits can be exchanged for help when needed.