Lady Pippa Blake: Sir Peter would be proud of work in his name.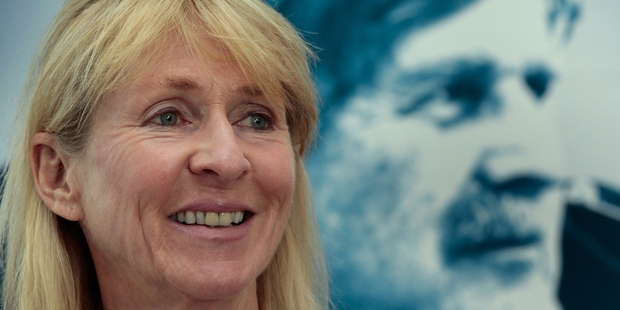 When the Sir Peter Blake Trust was launched in June 2004, a grieving Lady Pippa Blake could not fully envisage the enormous impact the trust would have.
Now, 10 years later she is immensely proud of the work continuing Sir Peter's legacy of environmental and marine conservation, and finding young Kiwi leaders who can inspire others to care the way he did.
Every year Lady Pippa, who with her children Sarah-Jane and James keeps close ties with the trust, is "blown away" by the calibre of the Blake Medallist and six Blake Leaders awarded for outstanding leadership.
This year's Blake awards will be announced on Friday. From next Monday, 300 leaders will visit schools across the country as part of Blake Leadership Week.
"When it was first established I was still quite raw from the tragedy of Peter's death so it was quite hard for me to see from a distance what the trust was going to be," Lady Pippa told the Herald from her home in South England.
"I knew that it was based around environmental issues and at that stage not necessarily leadership. But over the years it's really grown and I'm really proud of what the trust has achieved."
That includes recognising and inspiring future leaders, teaching younger generations about environmental and marine issues through Young Blake Expeditions and raising money for a research station on the sub-Antarctic Auckland Islands.
Last year, Lady Pippa was impressed by the enthusiasm instilled in school students by their teachers.
"They each told me about their dreams and it was just fantastic to hear that."
There were even some challenging questions for her in an assembly at Trident High School in Whakatane.
"How had I coped with the death of my husband and the grieving process, and suddenly to be stood up in front of a room full of 1000 students, you could hear a pin drop and it was amazing to me because I felt they really drew you out.
"It's humbling and I was just inspired by what they had to say."
Lady Pippa believes it is especially important to foster leadership skills in the young. "I think it's about values of what is right and wrong and how to lead your life and do the best for other people, and to be creative and imaginative and have visions and dreams and aim for them."
Sir Peter had a natural ability to be a great leader, she said.
In their 23-year marriage Lady Pippa, now 60, often saw her husband in charge of a crew. But despite his huge success as a sailor, she never thought, "Oh, I'm married to a leader".
"Peter was particularly good at delegating to the other guys and letting them make decisions and being part of decision-making on the boat. He wasn't a dictative leader.
"And out of that came a lot of humour and this very good comradeship I suppose between those guys on the boat and it was infectious."
She believes Sir Peter would be pleased with the trust and its work. It's her hope it will continue to grow, as an organisation and through the alumni associated with the awards.
Good company
The Blake Medal is the premium Blake award for outstanding leadership.
2013 Blake Medallist: Judge Michael (Mick) Brown
New Zealand's first Principal Youth Court Judge, Mick Brown, led a pioneering transformation of the juvenile court system - a world-first that significantly improved outcomes for individuals and families across the country and reformed systems that endure today.
2012 Blake Medallist: Sir John Graham
A former All Black captain, Auckland Grammar and Christchurch Boys' High School principal, Auckland University Chancellor and president of the NZRU, Sir John Graham has demonstrated inspirational leadership on the sports field, in the classroom and at the board table for more than 50 years.
2011 Blake Medallist: Dame Margaret Bazley
Seen by many as the country's most respected public servant and problem solver, Dame Margaret Bazley has significantly helped shape public policy and administration over a five-decade-long career.
2010 Blake Medallist: Sir Ray Avery
Sir Ray Avery is a pharmaceutical scientist and social entrepreneur, whose groundbreaking work and visionary leadership has improved the lives of millions of the world's poorest and most vulnerable people.
2009 Blake Medallist: Dr John Hood
Former Vice-Chancellor of the University of Auckland, Dr John Hood's appointment to the same post at Oxford University marked the first time, in its 900-year history, a person had been selected from outside the institution and was seen as a tribute to his understanding of the modern university and its role.
2008 Blake Medallist: Sir Murray Halberg
Sir Murray Halberg is one of New Zealand's most celebrated sports- people who, with his development and ongoing leadership of the Halberg Trust, dedicated the best part of his life to promoting the inclusion of children with disabilities in sport and active leisure.
2007 Blake Medallist: Professor Sir Paul Callaghan
A world leader in nanotechnology and magnetics, Sir Paul Callaghan was one of New Zealand's best known and respected scientists, both within the scientific community and the wider population.
2006 Blake Medallist: Sir Stephen Tindall
Founder of The Warehouse Group, Sir Stephen Tindall is a leader in innovation and entrepreneurship. His vision for creating an organisation to provide support for initiatives benefiting the country also resulted in the establishment of the Tindall Foundation.
2005 Blake Medallist: Sir John Anderson
Former chief executive of the ANZ National Bank, Sir John Anderson has played a significant national and international leadership role in sport, business and the environment for more then 40 years, and has been a key personal adviser to various governments and industry.
Q & A
Why was the Sir Peter Blake Trust established?
Sir Peter Blake led Team New Zealand to two consecutive victories in the America's Cup, making the crew the first outside the United States in the Cup's then 149-year history to win and retain the trophy. He also won the 1989-90 Whitbread Round the World Race, held the Jules Verne Trophy from 1994 to 1997 by setting the fastest time around the world as co-skipper of ENZA New Zealand, and was knighted for his efforts. The 53-year-old was shot and killed by pirates on December 5, 2001 while monitoring environmental change on the Amazon River. His family and friends decided the most appropriate way to honour Sir Peter's legacy was to continue his work.
What is the purpose of the trust?
It aims to inspire and celebrate environmental awareness, adventure and leadership. The trust's job is about identifying and mobilising the next generation of leaders and environmentalists, with a particular focus on marine issues, according to chief executive Shelley Campbell.
What are the Blake awards?
Each year the trust appoints one Blake Medallist and six Blake Leaders who make up an alumni of like-minded people with the same passion, drive and humility as Sir Peter. Ms Campbell says: "The difference with our awards is it's not like 'Congratulations you're a Blake leader, you've done it'. It's more like a call to action."
What is leadership week?
The Blake awards ceremony is on Friday and is followed by Blake Leadership Week - starting on Monday - during which 300 leaders will visit schools throughout the country to inspire another 16,000 Kiwi children.
What are the Young Blake Expeditions?
The trips drive awareness of marine environmental issues, such as climate change, among primary and secondary school students. The students are taken on board a navy ship and sail alongside scientists, biologists and conservationists to study unique land and marine environments such as the Auckland Islands, where the trust is setting up a research station.
How is the trust funded?
A $3.8 million endowment from the Government - a dollar for every New Zealander at the time - helped launch the trust in 2004 and today is its 10th birthday. Much of its work is made possible through New Zealanders' continued support of Sir Peter's lucky red socks.
What is Red Socks Day?
Every year hundreds of schools, businesses, organisations and community groups honour Sir Peter's life and legacy on Red Socks Day and during the past decade 134,000 pairs of red socks have been sold. This year's Red Socks Day will be on next Friday, July 4.