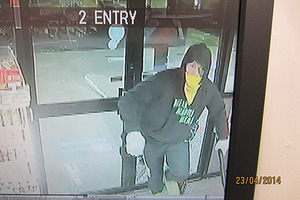 Police are at the scene of a second service station robbery that is said to be similar to one at Mt Wellington yesterday.
More information is expected to be released by police this morning but the Herald can reveal that thieves robbed a petrol station on Ellerslie Panmure Highway at about 1.30am.
They took off in a brown mini van.
The service station is cordoned off and police are carrying out a scene examination.
A spokeswoman said the circumstances were similar to an aggravated robbery at a service station on the Mt Wellington Highway yesterday where a shot was fired. Police were working to establish whether the two robberies were connected.
Two people, one armed with a shot gun, arrived at the Mobil petrol station about 1.25am and demanded to be let inside.
The two people working at the petrol station retreated to a locked back office, police said.
The offenders got in after smashing a glass panel in a doors then fired a shot in an attempt to get access to the counter area.
They took the till drawer and tobacco products, police said.
CCTV footage revealed the face of one of the offenders when his mask slipped below his nose.
They left in a white Nissan. shortly afterwards a stolen white Nissan Skyline was found parked in New Brighton Road less than a kilometre from the scene, with the engine still running.
A third service station was hit on Good Friday on Apriana Ave in Glen Innes.