Explosives used to rescue couple stuck overnight in narrow passage of cavern in Kahurangi National Park.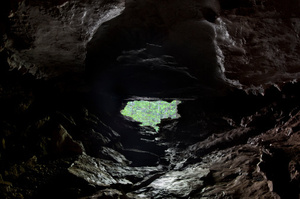 An experienced caver trapped in an underground cavern overnight on Saturday says the experience was far from an ordeal.
Lindsay Main, 62, was with his wife Alice Shanks and 16 other cavers in the Kahurangi National Park when he ran into trouble. The group were on their way out of the Pillar Cave, near Salisbury Hut in the Tableland area of Mt Arthur.
Bruce Mutton, a close friend of Mr Main and Ms Shanks and an experienced caver, said Mr Main had been unable to make it through a 15m long tight section, about 100m from the cave entrance.
Mr Main said the experience "wasn't an ordeal" but left him cold and wet.
The configuration of the passage prevented him from exiting the way he entered, he said.
"You just have to be able to flex in a certain way and the longer your legs are the harder it is to get around tight bends," he said.
As his wife was the last in their group of four, she decided not to attempt the exit and stayed with him, Mr Main said.
The area of the cave where he got stuck was a "very simple" area of the cave, he said.
"Only one person had been through there before, and that was the person who was leading this trip."
They had only recently discovered that particular area of Pillar Cave.
Constable Malcolm York, search and rescue incident controller, said Ms Shanks stayed in the underground cavern, about 60m in length, when she realised her husband could not fit through the tight section.
"He was able to back-track out of the squeeze into the cavern," Mr York said. "The other rescuers were able to pass through extra clothing, equipment, food for them to be comfortable for the night." Experts used explosives to widen the squeeze.
"Very precise, very small charges were just able to break up the rock that was blocking the access. They [Mr Main and Ms Shanks] were given high protection gear and were able to move a good 60 metres away from the blast," Mr York said.
"It was just the sheer factor of him being taller, that compared to the other people, he couldn't bend his body into the gymnastic shape that was required."
The area of Pillar Cave the couple were in had a walking passage and the narrower passage which people needed to crawl through, Mr Mutton said.
"There were two right angle bends which made it quite difficult. It just so happened that going in it was easier than going out."
Mr Main told TV3 the explosives made "a pretty good bang".
"It shook the cave, even where we were probably 40m away."
After the couple were rescued, they were checked over by medical staff and returned to Mr Mutton's home in Nelson to warm up.
They were in good spirits, Mr Mutton said.
Although Ms Shanks had a few bruised ribs from the trip, Mr Main was uninjured.
Pillar Cave is located on the western side of Mt Arthur.
- APNZ