Misdiagnosis leaves teens thinking they had been sentenced to death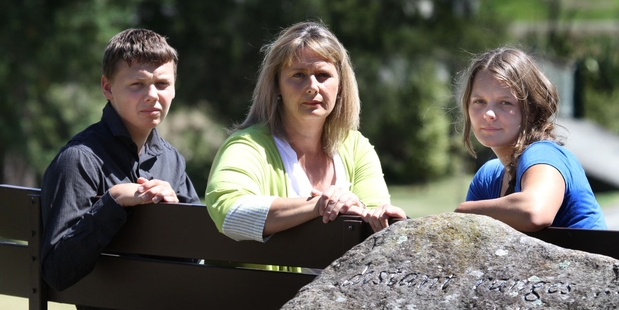 Two teens feared they could die at any moment after a pathologist initially got the cause of their father's sudden death wrong - a mistake that went uncorrected for almost five months.
Fifteen-year-old Chris Rickett, and his sister Alexandra, 17, lost their father Paul to sudden heart failure last April last year. With their mum, Bev, they battled to resuscitate the 46-year-old, a project manager for Zespri, but he died in his wife's arms at their rural Bay of Plenty home.
Paul Rickett's unexpected death started a horror year for his family.
As a result, chief coroner Judge Neil MacLean this week promised changes to prevent other families suffering the same way.
Twelve hours after Rickett died, a Ministry of Justice employee phoned Bev Rickett and told her Pathlab Waikato pathologist Dr Ian Beer had ruled the interim cause of her husband's death was arrhythmogenic right ventricular dysplasia (ARVD).
Not knowing what the diagnosis meant, Rickett and other family members searched the internet and consulted GPs. They discovered ARVD is incurable and can kill sufferers without warning at a young age - and were terrified, she said.
Her two children had a 50 per cent chance of inheriting the condition, and at least 14 extended family members were also at risk.
"Amid our devastating loss, our family was now in a complete state of panic. I spiralled into depression. I'd lost my life partner one week before our 21st wedding anniversary, and I was told 'your kids are going to die'."
She did not go back to Coronial Services because there was no suggestion the diagnosis could be wrong.
Chris and Alexandra were referred by the family doctor to a cardiologist, but had to wait four months for an appointment.
"The cardiologist said 'your children are likely to die in their early 20s' ... they were sitting NCEA, had watched their dad die and they're basically told they're dying."
But the cardiologist also said ARVD was so rare the cause of death should be checked again. It was only then the family discovered the final cause-of-death finding was giant cell myocarditis, a non-genetic cause of heart failure.
"My feet just went from under me. I cried for three days," Rickett said.
Beer - who made headlines in 2012 when he admitted mistakenly diagnosing a woman with breast cancer - said he was "terribly sorry" and wished Rickett had called him.
"I would've been able to put them out of their misery straight away."
Interim cause-of-death findings were based on a "naked eye" examination, and Paul Rickett looked like a "textbook case" of ARVD, which Beer said he had never seen in his 30-year career.
Tissue samples examined later revealed the mistaken diagnosis.
Dr Beer advised Coronial Services in July that the cause of death was, in fact, giant cell myocarditis - but it took another two months before Coronial Services told the family.
Judge MacLean said it was unusual for a definitive cause-of-death in an interim finding to be changed.
Most causes of death with genetic implications took time to identify, and support was made available to affected families. He would ensure the support was extended to families who found out earlier.
Mistakes had been made, Judge MacLean said. "I really regret it. We're going to try to make sure it doesn't happen again."
Rickett has hired a lawyer and will complain to the Health and Disability Commissioner, but is looking forward to when the family can again focus on the person they lost.
"This has taken away our ability to grieve for the most wonderful man in the world."
Heart specialist: It's serious, but it can be treated
It's serious, and testing for those at risk is vital, but arrhythmogenic right ventricular dysplasia (ARVD) is not an automatic death sentence, a top cardiologist says.
University of Auckland professor Rob Doughty, the Heart Foundation heart health chairman, said the condition was caused by fatty infiltration into the heart muscle and affected one in 10,000 people.
It was believed to be genetic, and those most closely related to a sufferer were most at risk. It could also occur in people with no family history as a "one off genetic abnormality".
It caused abnormal heart rhythm, which could be deadly, and was usually seen in young people.
There were varying degrees of severity, and some sufferers did not need treatment. More severe cases could be treated with medication, or receive a defibrillator implant to regulate their heartbeat, or shock their heart should it stop.
Most people found out they were at risk only after a family member died suddenly of the condition, Doughty said. At that stage, screening was vital.
But anyone who had felt faint, suffered dizzy spells, a fast heart-rate, breathlessness or chest pain should seek medical help.