Ukrainians living in New Zealand have mixed views about Russia's occupation of the Crimean Peninsula, with one warning of a Chechnya-type situation developing.
Ukrainian-born Valeri Karpenko, who now lives in Auckland, denied the show of force was an occupation.
"I would never call it an occupation ... I would call it assistance," Mr Karpenko said, adding he supported Russia's moves.
Mr Karpenko said he was originally Ukrainian but became a Russian citizen after perestroika, while his wife Margaret was Russian but became Ukrainian after the fall of the Soviet Union. His brother still lived in the Ukrainian city of Kherson, and didn't share his views, he said.
Wellington Ukrainian Community spokesman Sergiy Vorobey was one of around 20 protesters who picketed the Russian Embassy in Wellington yesterday.
Around 600 Ukrainians are living in New Zealand, Mr Vorobey said.
"It's hard, we're all struggling to comprehend [what's happening]. Some of us are obviously pro-Russia - be it for right or wrong reasons.
"But, for those that consider themselves Ukrainian ... for us it's our homeland ... and we have systems in place already that if Crimea wanted to separate, they are already an autonomous nation within the borders of Ukraine - they could do that freely, they have a parliament, they could vote on it."
Another protester outside the embassy in Wellington was third-year commerce student Alexander Savchuk who described the situation as a "creeping invasion".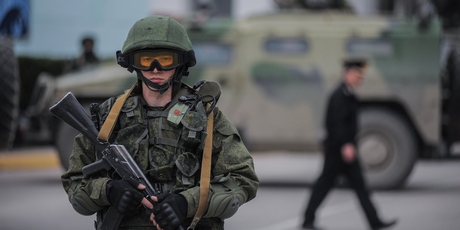 "Russian forces with no insignia took control of the whole Crimean Peninsula and were trying to provoke violence," he said.
"Ukrainian forces are blocked inside their quarters and are trying hard to resist provocations, because they realise that it'll be a great pretext for a full-blown military operation."
The majority of Russian media outlets were giving a completely distorted picture of the situation, Mr Savchuk said. His friends in Kiev described the situation as "naked aggression" on behalf of Russia.
"Ukraine is bleeding and would likely lose in this conflict. This will lead to a rather short and triumphant war for Russia and many years of guerrilla warfare afterwards.
"Crimean Tartars are especially opposed to Russia, and this is likely to cause an influx of radical Muslim fighters to Crimea, essentially turning it into a second Chechnya ... people are terrified of this."
NZ Paralympics team spokeswoman Melissa Dawson said the team had no plans to pull out of Sochi as a result of developments in Ukraine.
- APNZ