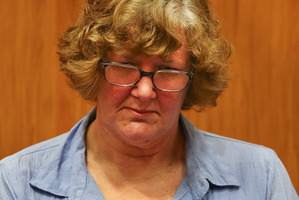 The sister of a man who was murdered by his wife has declined a compensation offer from police after her sleuthing uncovered officers botched the original investigation.
Convicted murderer Helen Milner, dubbed the "black widow'', was today sentenced to life imprisonment, with a minimum non-parole period of 17 years.
Milner, 50, was found guilty by a jury in December of murdering her 47-year-old second husband Philip James Nisbet in 2009 by poisoning him with the allergy drug Phenergan and finishing him off by suffocating him with a pillow.
She was also found guilty of attempted murder.
The 47-year-old truck driver's death in May 2009 was initially ruled as a suicide, but a homicide investigation was launched two years later after a coroner raised doubts.
Mr Nisbet's sister Lee-Ann Cartier became sceptical of Milner's story within days of her brother's funeral and, from her home in Queensland, did her own detective work and supplied information to police.
Police have admitted shortcomings with the investigation but Ms Cartier has said she wants compensation for the thousands spent on phone calls and flights to Christchurch to further her inquiries.
Detective Inspector Tom Fitzgerald today said police have offered her compensation, however she wasn't happy with the sum offered.
"Police have had discussions with Ms Cartier to offer reimbursement of actual costs she incurred prior to the coronial inquest.
"Ms Cartier indicated she was not satisfied with this, and intended to pursue wider compensation.''
In the High Court at Christchurch today, Justice David Gendall sentenced Milner to life with a non-parole period of 17 years.
He also sentenced her to six years' jail on the attempted murder charge to be served concurrently.
Justice Gendall said Milner's offending was committed "simply for financial gain'' and to rid her of a husband she no longer wanted.
Mr Nisbet was "particularly innocent'' and there had been no reason for him to be killed.
Justice Gendall agreed with the Crown's submission that Milner's actions were ``a carefully thought through and calculated plan with callous disregard for Mr Nisbet's family and friends''.
The crown proved Milner laced Mr Nisbet's evening meal with drugs and, while he was heavily sedated, finished him off by smothering him with a pillow.
Milner then tried to cover up the crime by forging several suicide notes and text messages.
- Additional reporting: Cullen Smith of the Christchurch Star
- APNZ