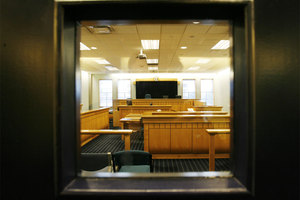 A second Auckland lawyer has been struck off the roll of barristers and solicitors after misappropriating thousands of dollars from clients.
Richard Holland admitted to six charges of professional misconduct in relation to dealings with two clients and inadequate trust account records, before the Lawyers and Conveyancers Disciplinary Tribunal.
A statement from the Law Society today stated three of the charges Mr Holland admitted to related to when he acted for a client in the sale of her property and received $200,000 as a share of settlement proceeds.
While he deducted $39,405 for legal fees, it was found the balance of the proceeds - $160,595 - were either misappropriated or not accounted for.
He also encouraged the same client to sign a sham loan agreement wrongly documenting the misappropriated money as a loan from the client to himself.
In another property sale, Mr Holland received $252,120 into his trust account, but paid his client only $165,176.
He admitted misappropriating or failing to account for nearly $87,000 in relation to this property sale, and $4600 when acting for a another client.
The Law Society said one of the misconduct charges also related to Mr Holland's failure to keep proper trust account records.
"Because large sums of money are involved there are very strict rules and any failure to account is viewed extremely seriously," Law Society president Chris Moore said.
The tribunal ordered Mr Holland pay $50,000 to one complainant. A decision is yet to be made on compensation for the second client. He has also been ordered to pay about $10,000 to the Law Society for legal costs.
The tribunal's order to have Mr Holland's name struck from the Law Society's register follows yesterday's decision in the case of Eion Castles.
Mr Castles, who was also found guilty of professional misconduct, had overcharged his former golfing buddy nearly $600,000 in legal fees.
He was ordered to pay $599,000 by the Tribunal, which also ordered his name be struck off the Law Society's register.
- APNZ