Prime Minister names 1977 economics tutor as inspiration in education promotion.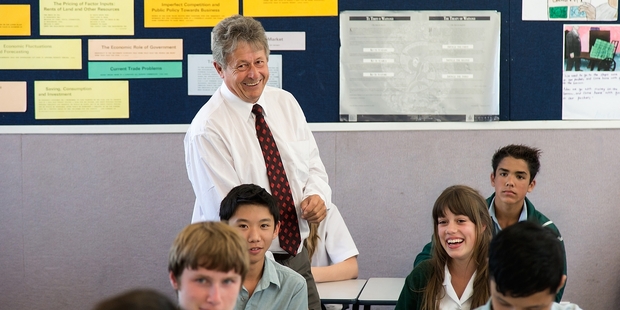 Rob Hughes has taught several thousand students during his decades as a schoolteacher, but he remembers the hard-working boy who has gone on to become Prime Minister.
"He was a good kid, and he certainly took an interest in economics and government policy and that sort of thing," said Mr Hughes, who taught John Key economics at Burnside High School.
"I've sort of kept a wee bit in touch with him over the past few years, he has been back to Burnside and I was visiting Parliament and he came and found me there."
Mr Hughes, who is still teaching at Burnside, has been fielding media calls after being nominated by Mr Key as a teacher who particularly inspired him.
The Prime Minister wrote a postcard to his former teacher as part of a campaign which invites Kiwis to share their stories of a teacher who affected their life.
The "InspiredbyU" project, launched yesterday by Education Minister Hekia Parata - who wrote about her old Ngata Memorial College teacher Patricia Fitzpatrick - lets Kiwis use virtual postcards to pay tribute to former teachers.
Mr Key's postcard reads: "Dear Rob, I was inspired by you because you had a love, passion, and great knowledge of economics. You added to my desire to make a difference to New Zealand."
Mr Hughes believed he taught his famous pupil about 1977, a short time after he had himself left university. Apart from a year away here and there, he had been at Burnside ever since. "I've taught three or four thousand students through the school, and I think it was about my first year of teaching, and I only taught him for one year, where quite often I'd teach students for two, three and four years.
"I know exactly where he sat, I sort of remember his interest ... It's not saying that I picked him necessarily as going places, but he certainly did."
John Key was a good student, Mr Hughes recalled. Subject matter was closely linked to the politics of the day, with Mr Key's future party often in the cross-hairs. "Economics was great to teach in those days, because all of Muldoon's controls were still there, and we were sort of free-market evangelistic ... it was a great time to be able to criticise the Government and prove they were wrong."
"InspiredbyU" is part of the next month's Festivals of Education.
People can contribute their inspiring teacher story at www.inspiredbyU.org.nz.
Stand-out teachers
* Kiwis encouraged to write tributes to favourite teachers in new programme supported by the Ministry of Education.
* Prime Minister John Key has sent a message to his former economics teacher, who is still teaching at Burnside High School in Christchurch.