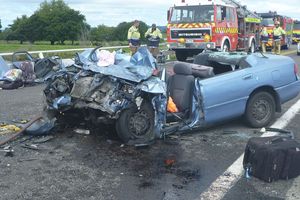 Two young children are seriously injured following a head-on crash at Thornton, near Whakatane.
Five people were injured after a car carrying two adults and two young children crashed into a single cab truck on the Thornton Bridge, on Thornton Rd near East Bank Rd and West Bank Rd, about 2pm yesterday.
Two children, a girl from Kaitaia aged 4, and a baby suffered serious injuries.
The extent of the injuries of the two adults and the driver of the truck were not known yesterday.
A Rotorua Daily Post reporter at the scene said there was chaos as police, fire and ambulance worked on those injured.
The reporter said a baby, aged under six months, was lying on a blanket on the bridge while emergency services treated it.
A doctor was the first on the scene and had worked continuously on the baby until emergency services arrived, a police officer at the scene said.
The 4-year-old girl was being cradled on the side of the road by a woman until the Tauranga-based TrustPower TECT Rescue Helicopter arrived and airlifted her to Tauranga Hospital.
She had serious leg injuries and cuts to her arm and head.
The reporter said there was an adult on a stretcher being treated by paramedics while emergency services worked to free another injured person from the car using the Jaws of Life.
There were several police officers, three fire trucks and two ambulances at the scene.
The Tauranga-based Serious Crash Unit was to investigate the crash.
Traffic was being diverted onto East Bank Rd and West Bank Rd but the Thornton Bridge was completely blocked while the scene was being cleared. The crash is only about 100m from where a man died on January 5.
For more articles from this region, go to Rotorua Daily Post