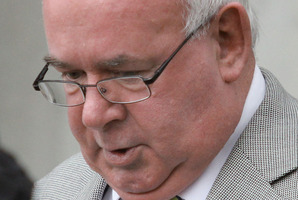 A former Christchurch police officer has been convicted and discharged after stealing almost $3000 given to him in the course of his duty.
Trevor Hinkley stole $2750 in cash while employed in Christchurch police's traffic division scheme.
Now in his 60s, the former long-serving officer pleaded guilty to one representative charge of theft by a person in a special relationship last year.
His name suppression was lifted by the Christchurch District Court today.
Hinkley kept cash given to him by members of the public, which he failed to deal with in accordance with the requirements of the Commissioner of Police.
Hinkley's defence counsel Pip Hall last year told the court that Hinkley was stressed when his colleagues caught him with the money.
Previous reports said he had been diagnosed with clinical depression, which was exacerbated by his excessive consumption of prescribed medications.
However, Crown prosecutor Kathy Bell rejected claims that Hinkley's health at the time of the thefts had a "relevant bearing on his offending".
Canterbury police district commander Superintendent Gary Knowles today said the conviction affirmed the seriousness with which police viewed such offending.
"It is always disappointing to have to bring charges against any police officer.
"We take allegations of dishonest behaviour by our staff extremely seriously - and we do not tolerate corruption in any form.
"It is particularly distressing when an officer betrays the trust of the community, as their dishonest actions are a slur on all police, who serve our citizens with integrity and honesty."
It was important officers were held to the highest standards of account at all times, Mr Knowles said.
"I am satisfied that police acted promptly once this offending was brought to our attention, and a thorough and complex investigation phase was undertaken which resulted in multiple charges being brought before the court."
Hinkley left police employment in December 2012. An internal investigation had been commenced but was not completed at the time of his resignation, Mr Knowles said.
- APNZ