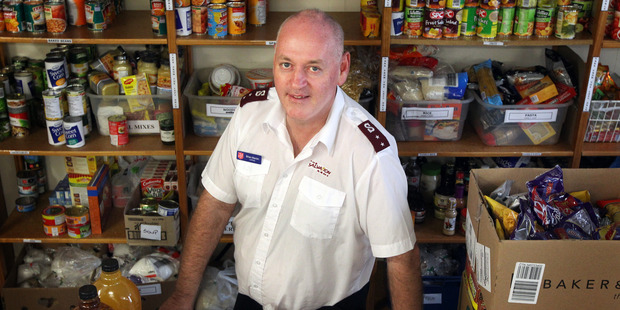 Police have drawn a blank trying to track down the thieves responsible for breaking into the Salvation Army Church and stealing Rotorua Daily Post Christmas appeal items.
The news comes as the Salvation Army recovers from another theft, this time their Family Store truck.
The truck was stolen on Saturday and found by police on Sunday.
Salvation Army Captain Brian Martin said it required extensive repairs. To top off the bad news, on Sunday night the Martins' personal car was broken into.
Yesterday Rotorua police Senior Sergeant Brendon Keenan said fingerprints found after the burglary in December did not match anyone on its database and they were unable to charge people with receiving stolen goods.
The Salvation Army, on Old Taupo Rd, was burgled on December 10. The freezer had been rifled of 24 size-16 frozen chickens. Also stolen were boxes of chocolates, soft drink and grape juice and several sacks of potatoes. At the time police were confident of bringing the thieves to justice but a month on Mr Keenan said they have no leads.
"There's been no match to any of the forensic evidence that was collected, which means it was someone who has not had their fingerprints taken before," Mr Keenan said.
"There are no other leads at this stage. We also won't be charging anyone with receiving stolen goods as it can be quite hard to prove they received goods knowing they had been stolen.
"But it's not a dead duck. The case hasn't been closed but there's no arrests in the pipeline."
He said anyone who had any information about the theft could contact police as they would like to bring the thieves to account.
"It was a sentimental type of crime, it was Christmas, the Salvation Army and quite high profile. Not having someone to hold to account for that is a disappointment from that perspective. It's certainly frustrating but there could be more information that comes through."
Mr Martin said they would have happily helped the thieves if they needed food had they approached them through the normal channels.
They are now hoping insurance would cover the cost of repairing their truck, which is used to collect goods to raise revenue for their budgeting and counselling services.
He said the Salvation Army put their trust in police to investigate as well as they could.
"It's in their hands and that's all we can do, hopefully they will solve [the burglary]. They stole chocolates and soft drinks, it was taken out of greed, not need."
Police are also investigating the other incidents.
For more articles from this region, go to Rotorua Daily Post