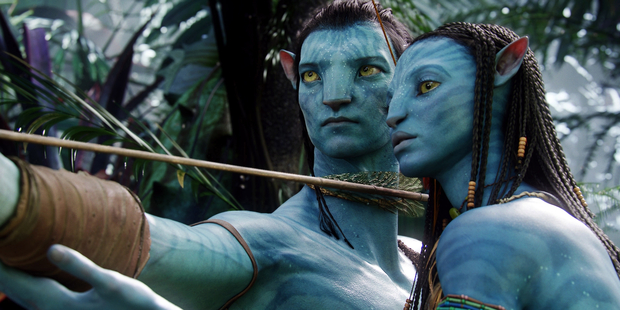 Hollywood is coming home. Home to New Zealand. This week's announcement that film-maker rebates will be boosted to up to 25 per cent came with the news that James Cameron has committed to revive the fantasy world of Pandora in New Zealand, with three Avatar sequels to be made here. They'll be eligible for a bonus tax handback by delivering various extra benefits to New Zealand. Good for them.
According to high-level and wholly fabricated sources, however, an even higher rebate is available to film-makers who "reflect the realities of contemporary New Zealand" in their work. A document leaked to a select group of journalists by an imaginary friend this week appears to contain "a plot idea for Jim, to get that extra tax break". The author of the paper is unclear, but porridge stains appear to match the brand preferred by the Minister for Economic Development, Steven Joyce.
Anyway, here it is.
Avatar II - A Brighter, Bluer Future
Act One
The sun rises on another day in this exotic rainforested land. The year is 3014, and Pandora has recently returned to surplus. The indigenous YeahNa'Vi people go about their unfettered business in the local marketplace. Tall, muscular, and bright blue, they fill their baskets with fresh vegetables and discuss innovations in the High Value Manufacturing and Services sectors and how that payroll software in the education system seems to be working really sweetly these days.
On the fringes of Pandora's leafy town belt, a hidden redoubt houses an egg-shaped pod. Within lies Steven, an acclaimed business leader and strategist. A scientific procedure, explained very quickly by some characters in white coats with clipboards and hairclips, enables his consciousness to be genetically spirited into the avatar of John, a YeahNa'Vi, a newcomer to Pandora. The locals call him "the unidentified guest". He says, enigmatically, "Hi. My name's John."
But, wait, what is this? Beneath the surface, all is not well. Going forward, the bush tracks of national significance seethe with danger. The really terrific plan to draw the plentiful mineral futurproofium from the oceans is imperilled by accursed amphibious banshee warriors known as the Devil-beasts. They must be stopped. Steven zips up his bipedal exoskeleton. John draws a breath.
Act Two
Deep in the forest, a blue figure wakes. In the distance, the trees from that boring bit in the second Lord of the Rings film are wandering about. News arrives: the 500m exclusion zone around the offshore operation to bring happiness to the inhabitants of Pandora has been breached. Steven does not hesitate.
Bounding across the native wetlands, John halts upon sight of a rare and beautiful flower. It seems to beckon him closer. His nostril hairs twitch. Suddenly, from his pod, Steven remembers he read that front-page editorial in the paper the other day about Amorphophallus Judithium - it is the most beautiful flower in the world, but smells of rotting corpses owing to its diet of aspiring leaders. He turns on his heel. "Onward, My Precious!"
Soon John arrives at the site of the harmless offshore futurproofium exploration site. The Devil-beasts are poised to attack, essentially to bulldoze Pandora's children.
Saddled to the Chief Devil-beast is a hefty gentleman with a German accent, smoking a gun, and rapping something about "5 per cent of the internet". He turns, beads of sweat on his forehead, and chirps: "Hasta la vista, baby!"
Act Three
The German aboard the Devil-beast is back. "I'm back," he says. "Sorry about that. Let us race!"
A course has been laid out around the drill site. After a number of cancelled contests owing to wind conditions, they square up, the mysterious German aboard his Devil-beast and John on a gleaming new catamaran, built by thousands of happy YeahNa'Vi workers. Crowds line the shore. Several Devil-beast supporters pack into Pandora's hospitality box.
John gets thrashed every time, obviously, because as everyone knows, a Devil-beast is heaps faster than a sailboat.
But all is not lost. Steven escapes his exoskeleton, jetpacks to the catamaran and begins grinding furiously. John remains sentient, active, pretty relaxed actually.
Back at base, the white-coat scientists remove their hair clips and start high-fiving. Pandora can do it, everyone shouts, take it away! Several dysfunctional figures cling to the coat-tails of the vessel, kicking chem-trails in their wake. They are the seeds of Keywa, luminescent.
The catamaran scythes through the water, slicing the Devil-beast's belly wide. Out spill several former front-bench politicians, a Herne Bay villa, and a week's worth of snapper quota. Everyone cheers. The amphibious beast is vanquished, at least until the next film. John and Steven lean forward from the vessel's twin bows, screaming into the wind, "I'm the King of the World."
Their fingers touch. Steven absorbs the mantle from John, who retires to chair several boards and host a popular daily talkback show. A young Maori girl glides past, riding a whale. Fade to blue.