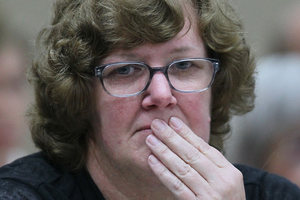 Nine days after Phil Nisbet's supposed suicide, Helen Milner's own parents went to police with concerns that she had murdered him, a court heard today.
Her elderly parents, a close friend, and her youngest son and his partner together told a detective that Milner had tried to kill Mr Nisbet weeks earlier, and had been motivated by a $250,000 life insurance policy.
They supplied what they believed to be incriminating text messages, as well as details of the life insurance policy.
Despite the fears, police would later rule out foul play and refer the death to a coroner as a suicide.
It wasn't until 18 months later that the coroner raised doubts over the sudden death on May 4, 2009, and a homicide investigation was launched.
Milner, 50, denies murdering her second husband Mr Nisbet, 47, by giving him a fatal overdose of the antihistamine and sedative Phenergan, and possibly finishing him off with a pillow over his face.
She also denies attempting to kill him twice on April 15, 2009.
At her High Court murder trial in Christchurch today, Detective Constable Belinda Campbell said she had been working late shift on May 13, 2009 when the family members gave to Papanui police station to raise "concerns over the death of Phil Nisbet".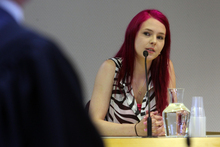 Present were Milner's son Adam Kearns, his partner Kasey Woodstock, Milner's parents Murray (now deceased) and Anne, and a friend of Milner's called Gavin Milne.
The "general theme" of the discussion was that they were concerned that MIlner was responsible and that the death was not a suicide, Ms Campbell said.
They also believed that she'd tried to kill him the month before, she said.
Mr Kearns, who yesterday gave testimony that he saw his mother crushing up tablets on the kitchen table and putting them into clear capsules, then told her "why she had murdered him".
The claims were logged in a jobsheet and a report was submitted for further follow-ups, Ms Campbell said.
A number of text messages from Mr Kearns' cellphone were also recorded, where Milner talked about going to an 'after hours' the day before she allegedly first tried to kill Mr Nisbet.
Mr Kearns said that was a reference to Milner buying Phenergan at a pharmacy.
Miss Woodstock said that her partner had confided to her about his mum's alleged April 15 murder attempt.
She also told police that Milner had joked that next time she should use 50 Phenergan tablets "because 25 was obviously not enough".
It was also brought to Ms Campbell's attention that Mr Nisbet had a $250,000 life insurance policy, and that information was passed on for more investigation.
Police originally ruled out foul play, despite family suspicions Milner had killed him, and it wasn't until a coroner raised doubts over the death that a homicide investigation was carried out.
The Crown says Milner was unhappy in her marriage and motivated to murder by the prospect of cashing in the $250,000 life insurance policy.
She plotted the best ways to kill her husband; buying drugs under false names, asking friends for views on poisoning methods, and even offering to pay $20,000 for a hit man to kill Mr Nisbet, it is alleged.
The trial, before Justice David Gendall, continues.
- APNZ