NZ's Steven Adams is hanging on to his humility amid the egos and high- flying lifestyle of the NBA. We were with him in the build-up to the biggest game of his career, this weekend's Oklahoma Thunder triumph over the LA Clippers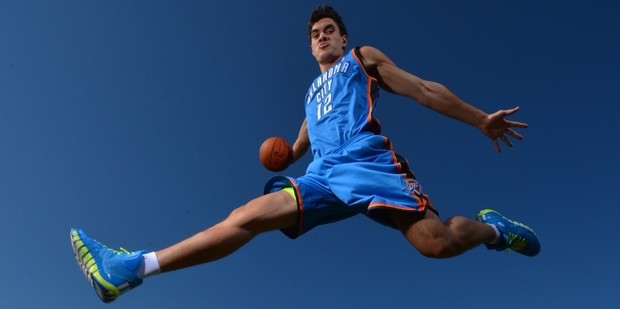 Oklahoma City, a sleepy, sports-mad town in the very middle of Middle America, is a strange place to come across a large portrait of a 20-year-old kid from Rotorua.
But such is the swiftness of Steven Adams' rise to basketball glory it feels rational that this small monument to him would be here.
From Scots College to the University of Pittsburgh to the NBA draft and into the Oklahoma City Thunder, Adams has made that journey in less than two years.
It is one hour until game time for Adams against the Denver Nuggets. The drums are blaring outside the Chesapeake Energy Arena, where Adams' face writ large greets you on entry and the 18,000-seat arena is approaching full capacity.
Adams is 2.13m tall. Standing next to him, it is like he exists on a different scale. In the high-ceilinged, polished locker room, trainers are working on some of his teammates. Here, Adams stands as an equal in a room full of millionaire athletes.
Less than 30 minutes before tip-off, the team enters the court to warm up, take shots and get the blood moving. The lofty Kiwi approaches the hoop and slam-dunks the ball with the same casualness that someone might reach for a high shelf at home. He comes on for 6 minutes early in the game. That's all for the night. Last week he was starting but fortunes change.
As a rookie playing in the rarefied air of top-level American professional basketball, he will probably always come off the bench, he says later.
He takes his usual seat on the bench next to assistant coach Mark Bryant. He likes to sit here to soak up the man's knowledge and discuss the game.
Oklahoma City are 12 points behind with 12 minutes left, not that the crowd lets it get to them. The tide turns - the Thunder chips away at the lead: 10, 8, 5, 2 points back. The crowd howls with delight.
Adams' superstar teammate Kevin Durant, 25 and one of the most visible basketball players on Earth, sinks a 3-point shot to put Oklahoma ahead with a minute left. Durant roars. The Thunder players react with unbridled euphoria. Chests are bumped, high-fives thrown.
The arena has reached an anarchic level of noise, magnified in an enclosed space. Thunder wins 115-113 - it's just one notch on an 82-game season but it feels like something important happened.
Afterwards, buried deep in the building, the Thunder locker room has a happy murmur to it; it smells of fresh showers. Adams, dressed in a baggy hooded sweatshirt and track pants, is clowning about with fellow rookie Andre Roberson.
"Nah, nah, you're cool bro," Adams tells him in an unabashedly Kiwi accent, before coming to say hello.
It's Adams' third week in the NBA but he dissects crowd psychology like a pro. "The first couple of days I was playing with the Thunder, it was really a menace. You get used to it, then you use it to feed off it," he says.
Oklahoma City residents love basketball. It's not uncommon to see a Thunder flag flying underneath an American one on the same pole.
"They're just really, really good fans," Adams says. So good, in fact, that he thinks they edge out All Blacks supporters for dedication. "I think that Oklahoma might have it. Everything is about the Thunder out here."

Two days later, at the Oklahoma City Thunder's old practise facility a 15-minute drive north of downtown - a short hop from their current, state-of-the- art $25.6 million home - Adams is set to appear at a Thunder Fit clinic.
About four dozen Native American preteens - many of them overweight and most from low-income households - are being put through their paces, running laps, learning about healthy eating and shooting hoops.
Adams enters with three of his teammates. The kids fall silent, immediately shy at the giant stars in their midst.
"Hey kids," Adams says, but the response is muted. Regardless, he's comfortable in his own skin. He bobs his head to a Linkin Park song; he picks up a ball and begins playing with the kids.
The group Adams is with rotates around to join the nutrition table. "I'm about to drop some knowledge on these kids," Adams laughs. He radiates good-natured and boyish humour, just a young lad from the furthest side of the world on the adventure of a lifetime, looking to mix it up and have a laugh.
At the end of the hour, everyone is allowed to ask the Thunder players questions. People seem to gravitate to Adams' playfulness. He bounds about happily in front of the kids. One kid pipes up: "Where are you from? Brazil?"
Adams laughs. "No."
"America?"
"Now you're just really wrong," he says. "I'm from New Zealand." The name of the country doesn't resonate even a jot in the room.
Talking afterwards Adams seems determined to take it in his stride. He's not quite media-polished yet, in a charming way, and almost dismissive of any question that requires pontification or philosophising.
Underplaying the moment, taking every new thing as it comes, seems to be a form of self-protection. For Adams, the transition from Kiwi student to professional basketball player has been a quantum leap.
One of 30 teams in the American basketball league, the Oklahoma City Thunder franchise is valued by Forbes at $580 million, about five times the net worth of the All Blacks.
"No matter where you go for the team, you have a private plane everywhere. It's ridiculous. And they got such good food on it and it ain't like the same seating. There're La-Z-Boy-type chairs everywhere. Food's good, stewardesses are good," Adams says. He stops and grins, "Oh bro, it's all good. It's mean."
Adams entered the NBA on a starting salary of $2.55 million. He knows the Thunder have a lot invested in him, he says. It's a responsibility that takes some getting used to. Contractually, he isn't allowed to play a pick-up game of basketball. He'd like to play for New Zealand but when the time comes, the details will be complicated.
Part of him misses the carefree New Zealand days, he says. When he's in Oklahoma, he knows he's under heavy public scrutiny.
But the privileges are inestimable. The Thunder training facility where Adams spends most of his time from early morning through to mid-afternoon working out, training and watching game tapes has its own chef and full-service sports medicine department, among countless other amenities.
"They make sure they minimise as much distraction as possible. For me, being from New Zealand, it's like, 'why do you do all that stuff?' It seems so big-time. But it makes sense why they're doing it and they've got a lot of research behind it," Adams says.
On NBA draft night - the moment Adams burst on the international scene and became the first New Zealander to be picked - it was tough knowing that he could be sent anywhere, he says. He had friends in the draft who had to fly to their new homes three hours afterwards.
He came to Oklahoma City the next day and went about settling into Edmond, a suburb north of the city. There have been bouts of homesickness but Adams' family (remarkably, he's the youngest of 18) have been there to guide him through with constant texts and Skype calls.
He also had to try to fit into the locker room of a professional basketball team, alongside players with considerable egos and salaries in the tens of millions. Adams says he just wants to be himself. "It was just: if they like me, they like me and if they don't, they don't."
Adams beams when he talks about the thousands of New Zealanders becoming Oklahoma City Thunder fans by proxy. He hopes that his example shows more people that basketball can at least be a ticket to an American education or international travel. He wants to use his influence to eventually try to build on New Zealand's basketball infrastructure.
He still hasn't come to grips, however, with the idea of himself as a role model. "It's one of the things I don't think about. I haven't woken up and thought, 'man, I'm a great role model'. I actually don't think of myself like that," he says.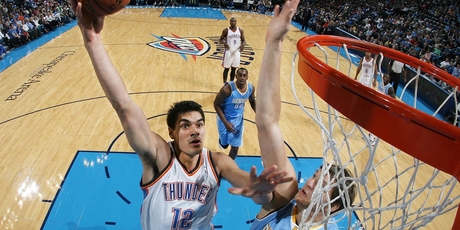 Adams was picked 12th in the NBA draft in June. Analysts had it pegged as one of the weakest drafts in history. He was considered a raw talent in need of work, and most people expected him to be sent to play with the Oklahoma Thunder's development league team in Tulsa.
But in every step of the journey over the past four months, Adams has outperformed expectations. He was kept on the roster; he started getting playing time; he started making a difference.
Last week against the Detroit Pistons he recorded 17 points and 10 rebounds, a sought-after "double-double". Royce Young, who runs ESPN's Daily Thunder site and has covered the team since it moved to Oklahoma from Seattle in 2008, says it's a stat that hasn't been recorded by a Thunder centre "for quite some time, period".
But the journey in front of Adams is still long and perilous - basketball history is littered with flash-in-the-pan burn-outs.
Kenny McFadden, an American basketball player who moved to New Zealand in 1982, set his eyes on Adams when he was 13 years old and incredibly tall. After Adams moved from Rotorua to Wellington, McFadden helped Adams nurture his skills, training him every morning at 6am through his teenage years.
He made sure Adams was studying and achieving academically at a level where he could get into an American university. He has watched him torch guys on the court in Wellington who were much older, then excel as a Wellington Saint in New Zealand's NBL at just 17.
But the hard work isn't over. McFadden is living in Oklahoma City with Adams, at his request, to keep him on task. Players' lives are micromanaged between class, games and training. Young men are given huge salaries and a lot of free time, McFadden says. Bad habits set in and motivation drains away.
Adams is halfway around the world from his home, when many of his teammates get to go home to wives and families.
McFadden says when you take that loneliness, plus put the long grind of the season on top of it - 82 games and eight months long - most young guys struggle. "Most rookies hit a wall at some point."
However, McFadden says Adams has been uniquely groomed to succeed at this level; he's never felt entitled and has always had to do a little more than his peers to get where he is.
"He never missed a training in 5 years. The workload he had at that young age, doubled with catching up on his studies, it's the hardest workout I've seen in my life," he says. "And I grew up with Magic Johnson."

It's two hours to game time. Deep in the tunnels of the Chesapeake Energy Arena that lead to the locker rooms, the aroma of fried food is thick in the air. Security guards are hustling to their posts.
It's three days since the last game. The Thunder is going up against conference rivals the Los Angeles Clippers. The game is nationally broadcast. Outspoken basketball personality Charles Barkley is getting ready to commentate.
Adams gets a shout out at the pre-match press conference from grizzled Clippers Coach Doc Rivers, an NBA Champion himself guiding the Boston Celtics in 2008. "[Adams] was a hell of a draft pick," Rivers says. "What is he, 20? What were you doing when you were 20?"
In the locker room, Adams is sitting with team veteran, Nick Collison, getting tips on what to look out for, things to keep in mind during the game. He's been here for three hours, working out, getting any little niggles seen to by team doctors.
Adams has a fixed, focused look, halfway between relaxed and serious. He flat-bats queries to the quality of the opponent and the size of the audience with his usual calm. "It's not a factor," he tells me. He goes to leave, then turns back and beams, "Enjoy the game though, eh?"
Tonight is even more of a circus than Monday. Sean Carter, aka Jay-Z, is sitting courtside with his wife, Beyonce Knowles.
Thunder coach Scott Brooks brings Adams on seven minutes into the first quarter, subbing starting centre Kendrick Perkins. Early in the second quarter, Adams' moment arrives. He takes a pass cleanly, slips his defender with a slight of footwork, and slams home a dunk. The sell-out crowd shakes with approval. The Thunder lead the entire game and beat the Clippers, 105-91.
Adams has played admirably: 20 minutes, six points, seven rebounds and three blocked shots. He's not the star of the show here, but he's a contributor, playing a far bigger role than anyone guessed three weeks into his first season. Not that he'd ever congratulate himself for it.
The whole scene, playing the Los Angeles Clippers, going live to millions of homes across America, is the sort of thing millions dream about bouncing a ball in the backyard. Very few live it.
But being here has meant sacrifice and it requires vigilance. "It's a slippery road, this road to the NBA. There are little distractions which hold you back a little bit and that little bit matters, a lot," Adams said in the gym, the day before.
"I always thought it would be nice but I never thought I would get this far. It all just came together. Which helped me more. The thought of not making it drove me. I just told myself I had to work harder, and harder and harder."