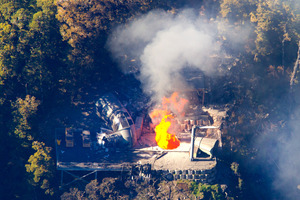 Families of Pike River mine victims have been urged to continue pushing for the remains of their loved ones to be returned, three years after deadly blasts ripped through the mine.
About 100 people attended a public memorial service at Blackball for the 29 men yesterday, Radio New Zealand reported.
At the service, Rick Durbridge, who lost his son Dan Herrick in the disaster, told the crowd Solid Energy was only going so far in sealing the mine's entry tunnel and there would need to be more of a push by families to get access to the coal face where most of the workers would have been.
"We need to do something and it needs to be more than families, politicians, unions - we need to be together to do it and bloody firmly too, if I might add."
Grey District Mayor Tony Kokshoorn said it could still be a few years before there could be access to the coal face.
"The only way into the mine in the future is tunnelling around, through the coal and at the closest point back to where the men were working ...
"You're talking $100,000,000 now, so the best thing we can do now is encourage someone to reoccupy and produce coal in the future and as part of that production, we can encourage those people to go in and get the remains out."
Yesterday, Labour Party leader David Cunliffe pledged a Labour Government would pay the families $3.4 million compensation they were owed.
Steve Rose, whose son Stuart Mudge died, said the Government needed to take responsibility.
"It's not about the money - the fact that the corporates got away with it is pretty much par for the course, I'd say.
"The Government are also accountable - both Labour and National - National for in '92 changing the law with Max Bradford and Labour in the ensuing years when they were in power for not changing it."
He said families would continue to fight for the men's remains to be returned.
- APNZ