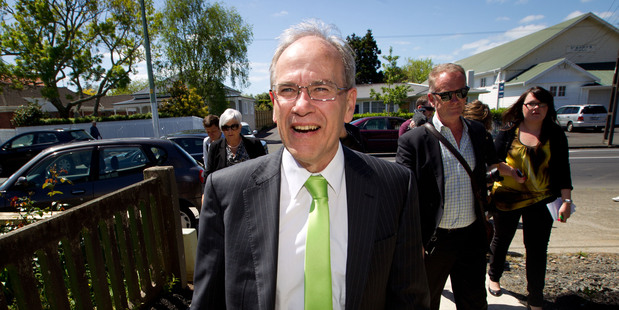 In 1992, I hitched from Dunedin to Auckland. During the trip, I caught up with an old friend who was managing a supermarket in a small town. He was rubbing his hands in glee. He had called in each of his checkout staff and offered them an individual contract to sign. In return for giving up their penal rates for overtime they would be given a one off cash payment. All had signed. The alternative was unemployment in a small town in a depressed job market.
The rise in income inequalities in New Zealand since then has been enormous. The current Auckland Council chief executive receives a salary of $782,000. The median wage is about $40,000.
Mayor Len Brown defended this salary as necessary to meet "the market". It is difficult to determine to which market he is referring.
Orthodox economic theory suggests wages paid in different occupations are determined by supply and demand in competitive markets. The market for checkout operators, rest home workers, cleaners and CEOs are equally competitive.
There are no power imbalances, just the fair and objective forces of supply and demand. There is no nepotism or old school ties or network advantages, just the impersonal forces of the market.
The reality in a small country is that pay rates are the product of power imbalances, institutional factors, politics and personal ties as much as market forces.
Over the past few decades, there has been a conscious effort to make our labour markets more flexible. This flexibility has tended to apply most effectively to those at the bottom end of the market. Union power has been curbed and access to benefits reduced. The minimum wage has been eroded by inflation.
Yet professional bodies such as those for lawyers, doctors and accountants have been treated as above this fray. These bodies are able to maintain strict control of entry into their ranks.
At the top end of the job market, pay rates have taken off. There are a number of reasons for this. Supply and demand is only one. From the 1980s many key executives were rewarded with share or cash bonuses as part of their salary packages to try to align their interests with those of their shareholders.
The problem is that short term profitability can be enhanced by delaying maintenance or cutting staff and compromising quality. The downside is not apparent until later when systems start failing.
There is also sometimes a symbiotic relationship between top executives and directors in determining pay and appointments. The interests of shareholders are often ill-served because their power is diluted by their diversity. Pay hikes for top executives often resemble a game of follow the leader. The connection between pay and performance can be tenuous.
In the public sector, the Remuneration Authority sets the pay for key civil servants, politicians and local body executives.
It uses inflated benchmarks set by the private sector in determining rates, therefore transmitting this private sector trend to the public sector.
The minimum wage remains the outcome of political decisions. It is not automatically adjusted for inflation or economic growth. Critics argue that any increase in the minimum wage will increase unemployment. Yet economic theory is far from conclusive on this.
This assertion assumes that markets are perfectly competitive and firms are unable to absorb or pass on this additional cost. It also assumes the task being performed by a worker can easily be performed by machine.
But employers of many minimum wage workers, such as supermarkets and rest homes, are usually not operating in perfectly competitive markets.
The market for labour in New Zealand appears to have different rules for different groups. Flexibility applies most fiercely at the bottom end of the market. Those at the upper end or members of professional bodies don't experience the extreme sharp edges of an unfettered labour market.
The Living Wage campaign is a noble attempt to use moral suasion to address these issues. But the large growth in income inequality in our society has been the product of political and social influences as much as market forces.
There is little point in such a campaign if political action continues to be used to reduce the bargaining power of those at the bottom end of the job market.
• Peter Lyons teaches economics at St Peter's College in Epsom and has written several economics texts.