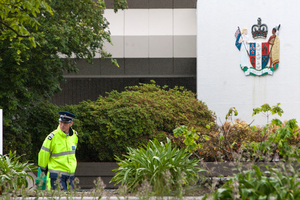 A bomb threat at the Rotorua Courthouse forced the evacuation for more than an hour.
All staff members and members of the public were asked to leave the court just after 9.30am yesterday after a call was received that there was a bomb.
No cordons were set up although people were being asked to wait across the road from the courthouse, on the corner of Arawa and Tutanekai Sts.
Two police cars were parked outside the court and a police officer as well as court security stopped people from entering.
One of those in the courthouse, Barry Te Kowhai, said people were asked to leave the court and wait outside.
Mr Te Kowhai, who spends most days in court helping people understand how the system works and providing support, said in the six years he'd been attending court he hadn't been involved in another bomb threat evacuation.
He said there wasn't any panic when people were leaving.
Another man said he was frustrated having to wait around outside not knowing what was happening.
The man, who was due to appear in court, said he just wanted to get back inside and get it over with.
"Everyone just thought it was a hoax."
It is understood a police prosecutor was alerted to the bomb threat and then alerted other staff.
For more articles from this region, go to Rotorua Daily Post