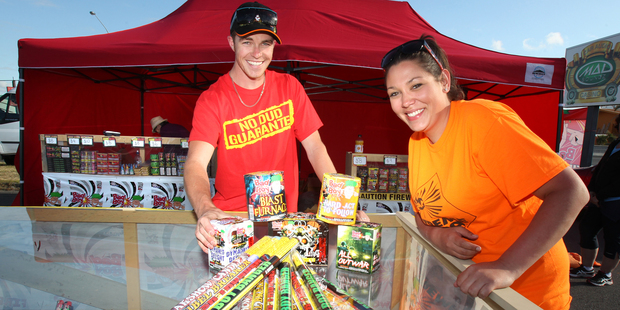 Three teenagers are accused of trying to detonate a potentially lethal pipe bomb after planting it in a letterbox.
The incident sparked a bomb squad callout and is the most serious incident in the wider Bay in the lead-up to Guy Fawkes.
Two 18-year-old males, and the 16-year-old, ignited and planted a pipe bomb inside a Golden Valley Rd letterbox on Sunday night.
The teens, all from Waihi, then fled but a man at the property noticed the 10pm delivery and took down the registration of the car they were travelling in.
Waihi police Sergeant Aaron Fraser said the man went to check the letterbox just seconds after the bomb had been placed inside. Luckily the bomb's wick appeared to have failed.
Mr Fraser said it was not necessarily the blast from an explosion but the pieces of metal or shrapnel that often severely injured or killed people.
"They were lucky the device hadn't gone off because if it had, he would have ended up with pipe fragments embedded in him. If that went in to his heart, or lungs, it could have had very serious consequences."
The man who found the bomb declined to comment. Members of the New Zealand Defence Force Explosive Ordnance Disposal unit travelled from Auckland after the alarm was raised and used a bomb disposal machine to remove the bomb, which consisted of gunpowder from fireworks and piping. I
t appeared the letterbox had been chosen at random, Mr Fraser said.
The two 18-year-olds are expected to appear in court on November 13, while the 16-year-old will be dealt with through police Youth Aid services.
The three teens will be charged with possession of an explosive device in a public place, Mr Fraser said.
The incident has marred what emergency services have described as a relatively quiet lead-up to Guy Fawkes night in the Bay.
Tauranga fire senior station officer Kevin Cowper yesterday said there had been no firework-related callouts but urged residents to remain vigilant as they stocked up on fireworks.
Retailers say customers have been spending thousands on fireworks since they went on sale at the weekend and some are extending their opening hours to keep up with demand.
Switched on Gardener Tauranga manager Fleur Wait said staff were rushed off their feet on Saturday when fireworks went on sale.
Some people were spending thousands of dollars on fireworks, she said.
She expected things to be "crazy" today.
"We are open until midnight, or until we sell out."
Video Ezy Brookfield manager Stephen Healey said their sales of fireworks were already on track to beat last year.
Most people were spending between $50 and $100, he said.
The sale of fireworks in New Zealand is restricted to those over 18 and can only be sold for four days each year, between November 2 and 5.
The Bay of Plenty Times sent a 16-year-old Tauranga teen into three different retailers to see if he could get his hands on fireworks, but he walked out of each store empty handed, after being asked for ID.
Xtreme Pyro manager Wayde Parnell said his team had turned away dozens of underage teens trying to buy fireworks. "It is pretty hard to tell the age of some people these days so we prefer not to take the risk."
For more articles from this region, go to Bay of Plenty Times