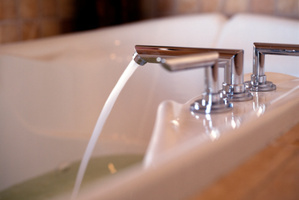 The day a young child drowned after his mother left him in his bath, was the first time he had ever been left alone in a bath, a court was told today.
The 13-month-old was found lying face down in 18cm to 19cm of water by his mother, who said she had been distracted by speaking on the phone to her mother.
He was lifeless for about 20 minutes before paramedics returned his pulse, but four days later, he died after his life support system was turned off at Starship Hospital.
The woman, who cannot be identified, has been charged with her child's manslaughter and is on trial before a jury at the High Court in Wellington.
Footage of an emotional police interview, that took place about a month after the incident, between the officer in charge of the case, Detective Damian Doocey, and the woman was shown to the jury today.
In the interview the young mother told the officer that on the morning of November 10 last year they were both taking a bath, but she left him alone to get dressed and then call her parents about getting the carpet cleaned.
"This is the first time I've ever left him in the bath," she told Mr Doocey.
At the time she was confident he would be safe, but she hadn't counted on the phone call to her mother distracting her.
"That's what it came down to - I got distracted and he did die."
She knew it was dangerous to leave young children alone in water and said that was something she would never do around a swimming pool.
"But a pool is a lot deeper than a bath."
The guilt over her son's death was "eating her up", she told Mr Doocey.
"No mother should feel the guilt of her child's death on her conscience. It's so unbearable."
The woman suffers from bi-polar disorder, but she said her illness had nothing to do with the incident because she was stable and taking medication at the time.
"It had nothing to do with being bi-polar, it was just a tragic accident."
Mr Doocey told the woman that the police had phone records showing she spoke with her mother for 6 minutes and 39 seconds.
The woman was visibly shocked and said she didn't think the conversation had taken so long.
"It makes me sick to the stomach that he could have been lying there in the water for that long."
At the time she had no idea that babies and toddlers weren't able to lift themselves out of water if they became submerged, she told Mr Doocey.
One of the child's Plunket nurses, Andrea Thompson, gave evidence that babies and toddlers, when they fell into water, would get into a "relaxed state" like they were back in utero and just lie there.
A Plunket safety adviser who also gave evidence said the developmental abilities of babies and toddlers meant they could not right themselves very well.
"They quickly and silently drown in as little as 5cm of water."
Earlier, footage of a police interview between the officer in charge of the case, Detective Damian Doocey, and the woman was shown to the jury.
The woman cried while the interview was shown.
In the interview the young mother told the officer that on the morning of November 10, last year, she ran a bath which they both got into.
When she got out, she saw the water level lower and saw if he crawled in the bath, his head would be above the water level.
She dried herself and dressed in her bedroom and stripped the sheets off her bed.
All the time she was calling out to him and he would reply in babbling talk.
"I felt confident that he would have been okay for the few minutes that I was away from him.
"At that time on that day I felt he was safe."
While the woman was away from the bathroom, she remembered she needed to call her father about the carpet being cleaned. That call lasted about two minutes, and she then called her mother about the same thing.
She told the officer she got distracted by the phone call and stopped listening for sounds of her son.
"I tuned out listening to (her son)," she said.
When the call finished, she realised her son was silent and she found him floating face down in the water.
He was "floppy and his lips were blue", she said.
She started CPR and called an ambulance. The little boy had no pulse for about 20 minutes, but it returned after paramedics worked on him.
He was then taken to Wellington Hospital and flown to Auckland's Starship Hospital that night.
She told the officer that she felt guilty, but was not to blame for her son's death.
"If I was responsible for his death, I would be the first one to put my hand up to make it right.
"I just don't understand why he didn't just pull himself up out of the bath."
Lawyers for the Crown and defence are expected to give their closing statements tomorrow morning.
- APNZ