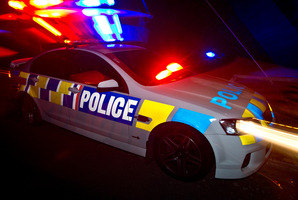 Two men were assaulted by a group of teenagers in Hamilton overnight in what police called a "cowardly attack".
Senior Sergeant Mike Underwood said police were called to the corner of Anglesea and Ward streets about 2.38am.
"It appears two young men, who had walked into the CBD from Hillcrest to catch a ride home with a friend who was finishing work, were set upon by a group of males and had their backpacks stolen in Garden Place," Mr Underwood said.
"As a result of the assaults both men are now in Waikato Hospital under observation for a variety of injuries ranging from scrapes and bruising through to a neck injury, broken collar bone and concussion."
He said police found a group of males in an alleyway on the Wintec Campus nearby.
"One of these males had a backpack on that had been taken from one of the victims," Mr Underwood said.
"A second blue, black and white Quicksilver backpack and an olive green hunting jacket remain outstanding and we will be speaking to Wintec in regards to asking their staff and students to keep an eye out for them."
A 17-year-old, two 15-year-olds and two 16-year olds are assisting police with enquiries.
Mr Underwood said police were concerned that the youths were in the central city at 2.30am.
"With Labour Weekend starting tonight and secondary school exams about to commence, young people will have a lot more time on their hands and it is imperative they have appropriate supervision least we see a repeat of this morning's gutless, unacceptable behaviour."
- APNZ