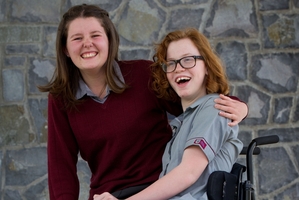 Auctioning off domestic chores and starting an online donation site has helped two Auckland teens "pay it forward" to a charity that is taking them on the trip of a lifetime.
Carmel College Year 9 students Molly Cody and Grace Stratton, both 14, left for California at the weekend with 28 other sick New Zealand children chosen for Koru Care NZ's annual $200,000 trip.
Molly, who was diagnosed with Type 1 diabetes as a 7-year-old, and Grace, who has cerebral palsy, banded together after their selection and raised more than $1500 to help other children chosen for next year's trip.
"We want to say thank you for giving us the opportunity, but also to pay it forward so they're able to keep doing it for children like us in future years," said Grace.
Molly said: "It's an amazing thing that they do for kids like me and Grace and there would be lots of other kids that would want to be able to go, too."
A fundraising night and silent auction where the pair sold babysitting, ironing and other odd jobs started the ball rolling, and was soon followed by a fundraiseonline.co.nz page.
Koru Care Charitable Trust is a voluntary organisation that aims to bring joy to children who face daily struggles by taking them on trips to California and Australia's Gold Coast.
Chairwoman Ann Bain said this year's trip was the 30th, meaning more than 800 children have had the experience because of the support and generosity of the public.
"Our sole focus is to give these children a much deserved opportunity to put their everyday difficulties behind them and to be regular kids for two weeks," she said.
"Grace has had major operations and stuff since when she was a baby," said Molly, "and I have had smaller issues but they are still issues. We are the only friends we know with stuff like this, so it's hard for us to be able to meet other kids who have gone through what we have gone through."
For more information
korucare.co.nz