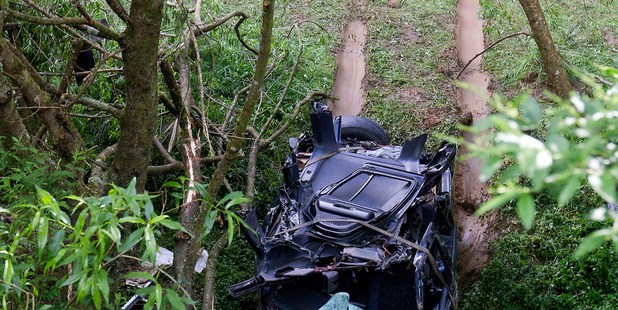 A 6-year-old girl and her 18-month-old sister were trapped helplessly for hours in the wreckage of their car, alongside their mum who would die of her injuries.
The scene was discovered by a search party led by the children's father.
Patricia Walker had taken her daughter Sophie for a dentist appointment with her younger sibling Chloe and was about two minutes from their Waingaro home when the Nissan Terrano she was driving left the road on a gentle right-hand bend.
The vehicle crashed into a willow tree 5m down a bank on SH22, about 2km west of the Waingaro Hot Springs in North Waikato.
It landed with its engine facing down in a muddy stream, its rear wedged into the tree.
A little more than 1km away was Ms Walker's partner and the girls' dad, Mick Allott, who was expecting them home about 3.30pm on Wednesday.
They were last seen in Hamilton about 3pm but when they didn't arrive by 7pm he began to worry, raising the alarm with police before starting his own search.
A man who lives nearby said he heard Mr Allott driving up SH22 with a torch calling out loudly about 8.30pm.
"I thought he was looking for his dog or something but then I could hear his voice and him calling out a name and you could tell he was really worried."
A neighbour of the couple said her family received a call about 9pm from a worried Mr Allott, who by then had driven up SH22 at least three times searching in vain.
Other neighbours and a local volunteer firefighter joined the search using spotlights to scour SH22.
Not long after, one of them heard Sophie crying out for help in the vehicle, which was partly submerged in the waist-deep creek below.
"One of our neighbours had a spotlight and he found her, which was lucky because we had driven past the spot where they went off the road two or three times," the woman said.
Ms Walker, 40, died at the scene. It is unclear how long she had been dead when the vehicle was found.
The neighbour said she saw the two children, the older of whom suffered minor injuries and was possibly in shock.
The younger girl had moderate injuries and was in and out of consciousness before a Westpac Rescue Helicopter flew them to Waikato Hospital.
"He [Mr Allott] was saying it should have been him and stuff because she was so nice, he was a bit of a mess."
The woman said the couple had been living at their property for about three years.
She often saw Ms Walker outside playing with her children with the sheep, pigs and rabbits on their small block of land.
"She was quite outdoorsy and a really nice person, if I was stuck getting into town she would give me a lift ... if I was on my own she would call to see if I needed anything.
"It's just really sad."
The Herald understands Ms Walker worked in the knowledge support industry in Hamilton and Mr Allott worked as a storeman.
Waikato Road Policing Manager, Inspector Marcus Lynam said the serious crash unit was trying to ascertain the cause of the accident.