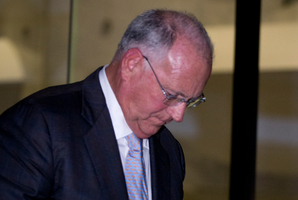 A lawyer accused of overcharging a client by nearly $600,000 was told he saw his former golfing buddy as a "Godsend'' who could prop up his allegedly ailing practice.
Eion Castles is appearing before the Lawyers and Conveyancers Disciplinary Tribunal at the Auckland District Court after he charged a client, whose name is suppressed, more than $1 million to help sort out legal problems created by his leaky Remuera home.
John Katz, QC, acting on behalf of the Law Society, today asked Mr Castles how busy his practice was at the time of the alleged overcharging.
"We had a busy practice, we had a variety of litigation,'' Mr Castles said.
Mr Katz then put it to him that a database search showed from 2005 to 2008 Mr Castles only appeared once in the High Court.
Mr Castles said that may have been true, however he would have had many other cases which were settled before making it to the High Court.
"I have to put it to it to you that the arrival of Mr [X] in 2005 was seen as a Godsend in terms of work,'' Mr Katz said.
"No, I disagree entirely,'' Mr Castles said.
Mr Castles charged the man, with whom he played golf at Titirangi Golf Club, $1,030,000 - well above the $436,000 cost assessors estimated his work would have cost.
Mr Katz asked Mr Castles whether he outlined his fees to the complainant when he came to him for help one night in November, 2005.
"He came to you as a friend, as a golfing partner didn't he?''
Mr Castles said he couldn't recall whether he had outlined his fees at the initial meeting, however said the complainant hadn't come to him only as a friend, but because he was a lawyer.
"I believe the formal retainer occurred the following day.''
Mr Castles conceded the complainant was later billed for the initial meeting.
When the complainant gave evidence before the tribunal in July, he told the tribunal he had bought a townhouse in Remuera in 1996. It was later identified as a leaky building.
He said he brought in Mr Castles in 2005 to help sue his former lawyer after problems getting a payout from the then Auckland City Council for the townhouse.
The complainant said Mr Castles told him the money needed to repair his leaky home could be recovered from the former lawyer, describing the case as "watertight''.
Mr Castles then represented the complainant, suing the former lawyer for professional negligence while continuing a claim against the council up until 2006.
Mr Katz said Mr Castles used the complainant as a "cash cow'' to fund his entire practice.
After selling the Remuera property in 2006, the complainant had "sold the last of the family silver'', Mr Katz said in July.
Mr Castles managed to recover $650,000 for the complainant in 2008 but it fell well short of his fee.
Brian Keene, QC, acting for Mr Castles, disputed his client had said that the case was watertight, and it was far from a conventional leaky building claim.
The hearing continues.
- APNZ