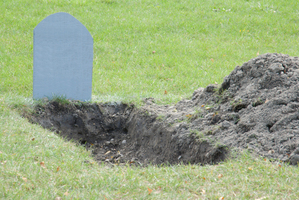 A shake-up of how and where we bury the dead has prompted a city council to raise the "terrifying" possibility of people simply digging a hole and "putting granny in it".
The Law Commission has released a raft of proposals as part of the first full review of burial and cremation laws for almost 50 years. They include stricter controls on funeral directors, allowing private firms to run cemeteries and letting the bereaved bury loved ones on family land.
The latter proposal was aimed mainly at those with a farm or similar who could demonstrate it would stay in the family for generations, lead commissioner Dr Wayne Mapp said.
"A national standard would set out minimum standards you would expect when a person was buried," Dr Mapp said.
"My personal preference is there to be a separate title for an area of land [for burial], but I can understand it might be sufficient for it to be noted on the title of the land."
Funeral Directors Association president Eion McKinnon supported the shake-up, saying many of the current laws were "archaic".
Mark Blackham, founder of the Natural Burials funeral service, backed the possibility of change.
"It means all manner of people, in all manner of places, would be able to set up their own cemeteries. Our surveys have shown that around about a third of New Zealanders would do [natural burials] if it was available."
Wellington City Council was concerned about permitting burials on private land, highlighting issues around maintenance and accountability.
"There has to be strict controls in place," a spokesman said. "There's a terrifying possibility of people just being able to ... dig a hole and put granny in it and put some flowers in it. It raises all sorts of obvious questions about procedure."
Dr Mapp said a proposal for private cemeteries was likely to appeal to smaller population groups, such as the Pacific community.
A spokeswoman for Ligaliga Funeral Services, in South Auckland, said most of its customers were Pacific families. "A lot of them will want to bury their loved ones in front of their house because it's normal back home [in the islands], especially grandparents. Burying your loved ones among people you do not know - at a cemetery - is very foreign.
"I don't know that all the neighbours will be happy though, seeing a headstone outside your window. A lot of people are scared of dead people so they might not like that."
The review also proposes licensing funeral directors. Dr Mapp said consumer feedback suggested there was a lack of transparency in the way costs were outlined to grieving families.
New Zealanders had been well served by family-based funeral directors but there had been changes at both ends of the market.
There had been an increase in one- or two-person businesses "sometimes with little or no industry experience or formal training" and evidence that corporations were playing an increasing role.
Mr McKinnon said the Funeral Directors Association had instigated its own rules to address ethical and professional standards for training, facilities, personnel and equipment.
Although he was unaware of widespread problems with rogue businesses, he said the association had received complaints.
The law was last reviewed before the Burial and Cremation Act was passed in 1964. Many of the act's provisions have not been altered since 1882.
- additional reporting: Vaimoana Tapaleao
- APNZ