Since Len Brown's first budget in 2011, debt has risen from $3.9 billion and is projected to reach $6.7 billion this financial year - not including the Mayor's pet $2.86 billion rail loop. Orakei councillor Cameron Brewer says these are huge numbers while mayoral challenger John Palino believes the Super City is being bankrupted.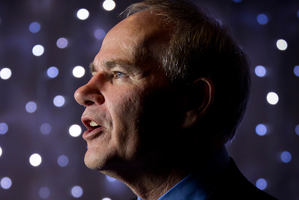 Soaring debt, hefty rate increases and a blow-out in the wages bill have marked Len Brown's first term as Mayor and Treasurer of the Super City.
The Herald has opened the books on Mr Brown's management of the city's finances and found a pattern of big borrowing, rising staff costs and rates pain for Auckland City, North Shore and Howick households.
Mr Brown insists most Aucklanders are in tune with the "balanced, prudent financial framework", but critics like main mayoral challenger John Palino believe he is driving the Super City to bankruptcy.
As the person in charge of a $4.5 billion annual budget, Mr Brown says he has shown "guts and vision" to invest in projects to address decades of under-investment and population growth.
He maintains the spending is being done within a low rates scenario, reasonable debt level, prudent financial management guidelines approved by the Auditor-General, the council's high credit rating of AA and a growing asset base.
What's more, he says borrowing for capital works is moderated by development contributions, Government subsidies for things like roads and public transport, and "discreet" sales of assets like surplus property, which raised $120 million in the past year.
But while Mr Brown is happy to use debt for capital spending, he says the council cannot afford to fully fund depreciation - a pot of cash built up to renew assets. The council is currently funding 63 per cent of depreciation, which comes from operating revenues such as rates. The council will not fully fund depreciation until 2025.
Since Mr Brown's first budget in 2011, debt has risen from $3.9 billion and is projected to reach $6.7 billion this financial year. Every day the council has borrowed $2.5 million and the interest bill this year is $347 million. Orakei councillor Cameron Brewer says these are huge numbers and show a worrying skyward escalation with debt forecast to reach $12.9 billion by 2022 with repayments of $752 million.
The figures are based on interest rates remaining between 5 and 6 per cent which, he says, won't last. What's more, he claims much of the debt has gone on "bits and bobs". Mr Brown rejects the "simplistic spin" that debt is being frittered away, citing the huge sums being spent on transport, water and stormwater infrastructure and community projects, like the new Otahuhu swimming pool, an arts centre in Glen Innes and new libraries in communities that previously missed out on their share of the pie.
When it comes to his pet project, the $2.86 billion underground rail project, Mr Brown is tight lipped about how he will fund the council's half share of the cost, despite saying last year that by the time of the local body elections, Aucklanders would be under no illusion about his preferences for funding options.
However, it does appear that from the options put forward by a mayoral advisory group that Mr Brown favours tolls on existing roads and/or tolls on new roads to the other options of higher rates or a fuel tax. A model will be worked up after the election for Mr Brown to push for a start on construction by 2016.
The rail project is part of a $12 billion funding gap that requires $400 million a year over 30 years to plug. Again, ratepayers are none the wiser about where this mountain of money will come from.
On the thorny issue of rates, Mr Brown has proudly driven overall rates increases down from 3.9 per cent to 3.4 per cent and 2.9 per cent in his first term, but been blind-sided by the move to a single rating system in 2012 resulting in some ratepayers paying more than the average and some less.
The Government came to his rescue to cap maximum increases at 10 per cent for three years, but there has been rates pain along the way with Albert-Eden households copping a 19.7 per cent increase in the past three budgets and Puketapapa (19.6 per cent), Orakei (18.3 per cent), Maungakiekie-Tamaki (17.6 per cent) and Howick (15.7 per cent) also being clobbered. Henderson-Massey households have fared best with an overall drop of 2.8 per cent in their rates over three years.
What Mr Brown can be credited with, or blamed for, is the decision last year to set the fixed general charge for all properties at $350, which benefits low-value properties and hits high-value properties. He has not ruled out raising it in the future.
One of the big promises of the Super City was doing more with less, but that does not appear to be the case with the staff wages bill, which is forecast to hit $702 million this financial year.
The agency that designed the Super City trimmed staff numbers from the 9430 of the previous eight councils to 8207 and forecast an annual salary bill of $513 million by 2012. The actual bill hit $655 million in 2012. Mr Brown told the Herald that the council group currently has 7800 staff - "significantly less than what we were before".
However, figures in the just-published annual report show a head count of 10,616 fulltime and part-time employees. The notes say "the total number of fulltime employees" is 8074 and the fulltime equivalent of "part-time employees" is 1490. A council spokesman said part-timers were included in the fulltime figure.
What's more, the number of staff earning more than $100,000 has climbed about 20 per cent in the past year to 1500, 113 of whom earned more than $200,000, costs of the senior executive leadership team rose from $3.1 million to $3.6 million and Watercare chief executive Mark Ford banked a $70,000 pay rise, taking his salary to between $780,000 and $790,000.
Mr Brown is also paying more than $13 million a year to run the boards and executive teams of the seven council controlled organisations - a figure equivalent to 1 per cent of rates.
Mr Palino says Aucklanders were told the Super City would be more efficient than its eight-legged predecessor, but the opposite has occurred - rate rises above inflation, more money spent on staff and nearly $3 billion of new debt. "The Auckland Council cannot continue to be led by someone with so little focus on the financial underpinnings of the organisation," he says.