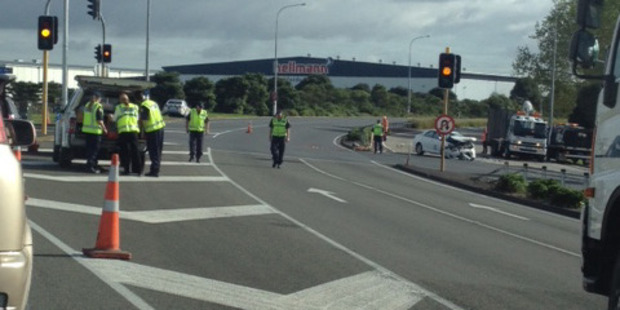 Alcohol is thought to have been a factor in this morning's crash that injured eight people and blocked the main route to Auckland airport for hours.
The scene on George Memorial Drive has now been cleared and traffic is flowing smoothly, police said.
The crash between two vehicles happened about 2am.
One of the vehicles was a taxi with two passengers and the other was a car containing five people, police said.
All eight, including a pregnant woman, were injured and taken to Middlemore Hospital.
Seven had moderate injuries and a man was in intensive care with serious head injuries, police said.
A car with five people in it had left the nearby bar Toby Jug Inn minutes before the crash.
The man who suffered the head injuries was involved in an incident before he left the bar, police said.
Police were working to determine if his injuries were a result of this incident or of the crash.
Alcohol is thought to be a factor in the crash, police said.
Serious Crash investigators were at the scene to determine the cause of the crash and any other aggravating factors.
It was not known whether any of the people involved were wearing restraints.
Counties Manukau CIB would like to hear from anyone who was at Toby Jug Inn who may have witnessed the incident and events leading up to the crash.
Some travellers caught in the traffic delays missed their flights today.
A JetStar spokesman said "a couple" of people missed their flights, but they were transferred onto later services.
An Air New Zealand spokesman said a number of passengers arrived late for their flights this morning.
"Given the unusual circumstances we accommodated them on other services where possible."
Do you know more? Send your story, photos or video here.
- APNZ