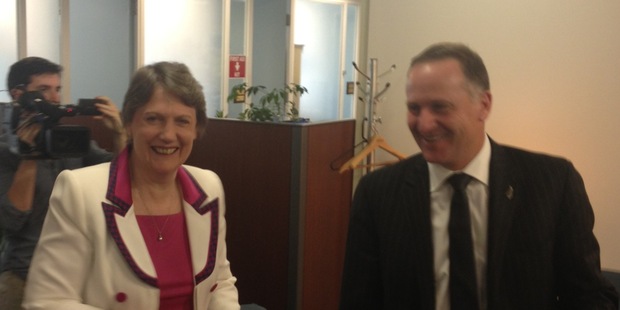 Prime Minister John Key will catch up with former Australian Prime Minister Julia Gillard in New York today after she texted to say she was in town.
Mr Key also met with his predecessor Helen Clark in her office at the United Nations Development Programme in New York today.
Mr Key and Ms Gillard got on well when she was Prime Minister of Australia - to the degree that after she was rolled by Kevin Rudd, Mr Key invited her to his bach in Omaha if she needed a bolt hole.
Australia's new Prime Minister Tony Abbott is not in New York.
Mr Key said he was hoping to fit in a bit of quality time with Gillard between his busy schedule of bilateral meetings and speeches today and tomorrow, but if not, he is likely to see her at a reception being hosted by former US President Bill Clinton tonight, local time, which Hillary Clinton is also likely to attend.
Ms Clark and Mr Key greeted each other warmly at their meeting this morning.
Clark wanted to know how much attention the Security Council bid was getting, and Mr Key said it was a lot, so media were asking him hardly any domestic questions.
Mr Key commented on Clark's Adrienne Winkelmann jacket, saying Winkelmann would be delighted that Clark was show casing her clothes in New York.
Not all of Mr Keys' meetings with other leaders will be about the Security Council bid - today he is also meeting Palestinian President Mahmoud Abbas, which does not have a vote. Mr Key last met Abbas in 2009. He said his meeting today was because of the interest in the Middle East peace process and to support the work US Secretary of State John Kerry was doing on that.
"New Zealand has an interest like every country in the world does that there is peace and stability in the Middle East. If that's possible it will be a great thing."

And he will also attend high-level meetings on small arms, and nuclear disarmament.
Mr Key was also planning to watch the America's Cup race this morning, by shifting his meeting with Malta. And in New York, the DUB Shop (Down Under Bakery) was offering mince and cheese pies at the cut rate price $5 a pop until the cup was over.
Asked he had considered whether the Government would fund Team NZ to the same level again if it lost this week, Mr Key said he had not given it too much thought. "I genuinely think that makes it slightly harder, but let's see how it goes."
He has been wearing his lucky cufflinks all week, which he said was both for the America's Cup and the Security Council bid.