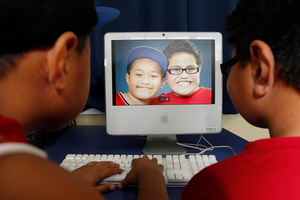 Samuel Mikaio and Benjamin Ahomana have been using their classroom's new iMac computer for only a couple of days, but have already all but mastered it.
The 8-year-olds and others in their Year 4 class at Mangere Central School use the new Apple machine to type stories, send emails, watch videos, and play maths games.
This week they video Skyped a former classmate in China, and the computer also comes in handy to research historical figures.
"Martin Luther King, George Washington and Genghis Khan, and James Cook and all the explorers in the world," explains Benjamin.
The computer is one of 15 donated by Yoobee School of Design. Samuel and Benjamin have a computer at home, but out of a class of 24 only two or three others are in the same position.
Teacher Seini Smith says many families now go to libraries to access the internet, or browse on mobile phones. That limited access is why the school is focused on ensuring each child becomes familiar with computers.
"We have a computer suite, but have tried to make it more integrated into classroom learning, rather than a session per week.
"They pick it up so quickly, and pretty much use it as their books ... but it's nothing homework-based, because there is no access."