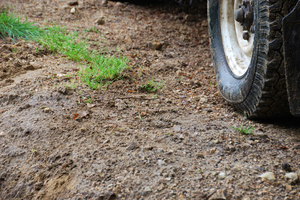 A two-year-old boy who died on a farm on the East Cape yesterday was run over after he fell off the back of a ute, police say.
The boy, Kitt Baxter Helm, died on a farm near Motu, a farming settlement mid-way between Gisborne and Opotiki, a police spokeswoman said.
Emergency services were called to the farm about 4pm yesterday.
Police said it appeared the boy was riding on the back of the ute when he fell off and was then run over by it.
"St John staff found the child to be critically injured when they arrived and they tried for more than half-an-hour to revive him, without success,'' said St John manager Shane Clapperton.
"The little boy passed away at the scene, despite their extensive efforts.''
The accident happened at a farm property on the western side of the Motu village, about eight kilometres from Motu, a farming settlement midway between Gisborne and Opotiki.
The rescue helicopter landed in a paddock in front of the house.
"The paramedics tried everything to save the boy. They were absolutely amazing,'' pilot Neil Dodds said.
Police said they were investigating to determine what happened.
Police have conducted a scene examination as part of the inquiry.
Word of the tragedy is still filtering through the Motu community.
"Everyone who knows is in shock about it,'' Motu school principal Paul Cornwall told The Gisborne Herald this morning.
"As you can imagine the little boy's family are devastated.''
It is understood the little boy was the youngest of two children in the family.
Mr Cornwall said the Motu community was ready to supply all the support it could to the family.
"At the moment they are being supported by close family but the wider community will gather round them when the time is right.''
- APNZ