Couple tell MPs about Kaipara debt debacle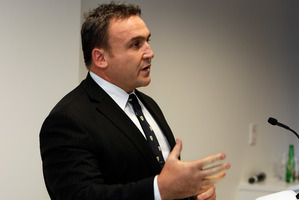 An elderly Mangawhai couple who spent their funeral money to be connected to the town's new sewerage system were yesterday among residents fighting legislation that would force them to pay $17 million rates illegally levied by the debt-ridden Kaipara District Council.
Pamela and Larry Downes spoke to a parliamentary select committee opposing Northland MP Mike Sabin's local bill, which would validate a series of rates increases since 2006 that are now acknowledged as illegal.
Mrs Downes, 68, and her 72-year-old husband moved to their "very simple little two-bedroom home with a lovely garden" in Mangawhai expecting "we would finish our lives in peace and quiet".
"Instead we've had the council thrust this terrible trial on us."
Their rates bill was $840 in 2006-07 and in 2011 they paid a $9673 fee to be connected to the council's new sewerage scheme - "my husband's burial fund".
The scheme was to cost $35 million but that ballooned to $62 million, pushing the council's borrowings to $80 million and resulting in hefty rates increases to service the debt. That led to the removal of the elected council, replaced by government-appointed commissioners last year.
About 2000 Mangawhai residents, including the Downes, have withheld their rates in protest.
In the 2011-12 year the couple's rates went up 100 per cent to $1670 and then $4400 last year, almost three times the rates bill on a home they own in New Lynn. "That's when we went on our rates strike," Mrs Downes told the committee.
"If you knew Larry and I you'd know we'd never cheat anyone out of a cent so that was a really hard thing to decide."
Residents told the committee they wanted the bill halted until a Mangawhai Residents and Ratepayers Association High Court challenge relating to increases was heard, and an Auditor-General's report on the council's management of the new sewerage system completed.
Association president Bruce Rogan told the committee if the court found in favour of the council, the bill's objectives would be met and it would be superfluous.
But if it found in favour of the association, "Parliament will find itself having to overturn a High Court decision, simply to exonerate people who failed abysmally to comply with this country's laws."