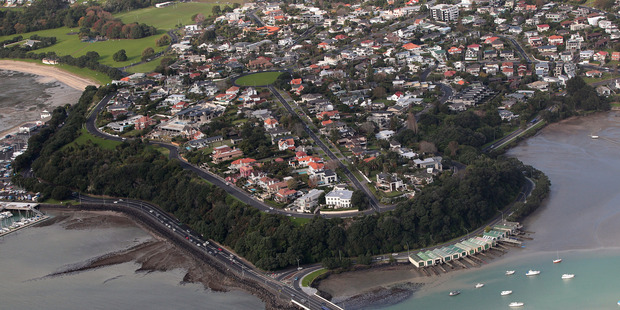 The data tables in the last edition of Property Report recorded 17 Auckland suburbs with an average value of more than $1m. This month's edition finds just 16 suburbs over the magic million-dollar mark - bringing in new-comers Glendowie and Orakei, and pushing out Grey Lynn, Freemans Bay and Mt Eden.
So what's happened - surely not the start of a slump in values when all the headlines are focused on the supercity's continued surge in prices?
Not at all. Rather, it comes down to the inclusion of thousands of extra properties in the process used to assess average values of the 400-odd suburbs and towns across the North Island.
Until this edition, PropertyIQ, which owns and operates QV.co.nz, has excluded flats and apartments to calculate average values. This may have given a truer average value trend for standard homes sitting on a suburban section, but it shut out complete areas of Auckland where flats and apartments dominate.
Those properties are now included and, of course, will generally be much cheaper than houses, weighing on average values. At the same time, the company has refined the weightings used by its E-Valuer tool, which had previously excluded the very highest bracket of properties because they were difficult to assess accurately, running the risk of distorted results.
In the following data tables of this edition, all columns (including those going back to the 2007 boom) have been changed to reflect the new criteria, and - quarter-by-quarter, year-by-year - we're comparing apples with apples.
Compared to the E-Valuer estimates of average value given in the June edition of Property Report, some suburbs and towns have increased in value, and some have declined. But they all now better reflect actual average value, taking into account flats, apartments and the vagaries of the very highest-priced properties.
The change in approach means the tables now introduce Auckland Central, Grafton and Eden Terrace, which were previously disregarded because they were dominated by flats and apartments. Also added to the Auckland listings are Manly and Waiotaiki Bay, which are now generally recording enough sales to fit the new E-Valuer criteria.
Onerahi in Whangarei has also been introduced, along with Wellington's Paremata, Plimmerton, Kelburn, Te Aro and Wellington Central.
But a lack of sales, making it impossible for E-Valuer to assess average value, means places such as Omaha, Acacia Bay, Otorohanga, Te Kuiti, Waihi Beach, Edgecumbe, Murupara and Ohope have now been cut from the data columns.
The omissions are unfortunate because all readers like to see how prices are going on their patch. However, the changes mean more accurate and meaningful data that covers all residential properties except for sections.
Buried within the new approach is the odd blow to prestige.
Freemans Bay, for example, has tumbled from an average value of $1.06m three months ago to $904,950, Grey Lynn has dropped from $1.003m to $929,450 and Mt Eden has slipped to $922,250 from $1.07m.
But those suburbs are among Auckland's strongest areas and the "declines" are all down to the inclusion of flats and apartments. That Mt Eden villa in the Grammar zone is every bit as expensive today as it was three months ago.
Down at the edge of the inner-harbour and the ridge over-looking it, Herne Bay has been pushed back to a mere $1.7m from the April giddy heights of $1.984m. Rather than becoming the country's first $2m suburb by average value in a month or two as expected, it may be two or three years before the country's most expensive real estate patch hits the magic mark.
When it does, though, it can truly claim to have an average value of $2m - flats, apartments and all.