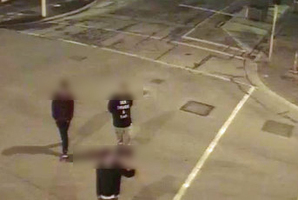 The man who admitted tagging a sign on the CTV building site in Christchurch has been fined $400 and ordered to pay $500 reparation.
Logan Philip Childs, 27, appeared for sentence in Waitakere District Court in Auckland this morning after pleading guilty to one charge of wilful damage of a sign outside the CTV site, where 115 people died in the 2011 quake.
Childs, from Kingsland, tagged the sign on August 3 while in Christchurch for a rap battle, and later told police he didn't realise its significance.
On Tuesday he pleaded guilty, and put forward a letter of apology for his actions.
The letter said the tagging was "The biggest mistake of my life, and I regret it more than you could believe.
"I have all the respect in the world for those who have sadly lost their lives and those who survived the tragic Christchurch earthquakes".
He said he was drunk and would not have tagged the CTV sign if he had read it properly. When the incident was reported on the news he "felt a great sense of shame as I realised my actions had affected many," the letter said.
Childs' lawyer Ron Mansfield said he had gone to Christchurch to compete in a rap battle, which his Auckland team had won. He was celebrating and had been drinking, and didn't appreciate the area he was in when he tagged the CTV sign.
"He certainly didn't appreciate that it was a sign advising people of the significance of the site," he said.
"Obviously the tagging was intentional, but there was no intention to deface that particular sign, or to denigrate the memory of the people who lost their lives."
Mr Mansfield sought a sentence of reparation that could be used to buy replacement signs.
Police prosecutor Stewart King said Childs would have been aware of what he was tagging. "If you have a look at the sign, at the top it says 'please respect this site', and this type of offending is obviously highly disrespectful."
The police summary of facts said Childs had applied his tag "DNTL" to approximately 11 areas, including businesses, road signs, taxi signs and plastic road barriers, as well as the CTV sign.
After media publicity about the incident, Childs handed himself into police.
He admitted his involvement, saying: "I didn't realise the significance of the sign, I was drunk, I am truly sorry."
Community Magistrate Janet Holmes said she took into account Childs' apology, and accepted he was genuinely remorseful.
She said his intoxication was an explanation but not an excuse, and noted that he had a previous conviction for graffiti in 2008.
"It seems to me that you're getting a little bit old to be indulging in such acts, particularly for the second time," she said.
Childs was convicted and sentenced to pay $500 reparation, a $400 fine and $130 court costs.
He declined to speak to media outside court.
Brian Kennedy, whose wife Faye was one of the 115 people who died in the six-storey building's collapse, hoped that Childs' shame outweighed his punishment handed down by the courts.
"He's a silly boy. The dollar value of his fine can't really measure or define what he's done," Mr Kennedy said today.
"It's not a jailable offence, and I think his personal shame will be enough.
"We should all be allowed to line up and give him a good kick up the backside."
- APNZ