Reverend Uesifili UNasa looks to paint south Auckland from brown to white in Auckland's upcoming mayoral elections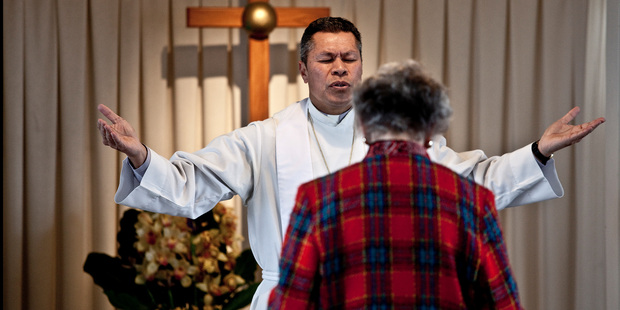 Reverend Uesifili Unasa wants to keep his mayoral election campaign cleaner than the spotless white robes he wears to deliver his Sunday sermons.
But as a Polynesian with the ambition of wresting south Aucklanders away from the incumbent Len "Downtown" Brown in October's elections, he's already seen how things can get dirty.
This week, half a dozen of his hoardings were torn down. For a grassroots campaign on a shoestring budget, that hurts. It came on top of last month's attack on him by the two sitting Polynesian councillors, Arthur Anae and Alf Filipaina: Pasifika voters wouldn't fall for his pledge to do more for their community, they said.
Unasa, 49, refused to engage, but he says the comments angered some of his campaign team, which includes his wife, Susan. They were an attack on all ethnic minority candidates and not just him, he adds.

Last Sunday, just before his official campaign launch, Unasa leads the service at the Beach Haven Methodist Church. The worshippers at the little white church are barely half a dozen, outnumbered by the real estate agents' signs on the front lawn.
The parishioners, some having worshipped here for more than 50 years, have just learnt that the morning service will be the second-to-last held at the church. It's being closed to make way for housing for the disabled, and the church is using the funds to help keep another struggling parish alive. Real estate is the new religion in this sleepy corner of the North Shore.
After the service, two elderly women, weeping openly, embrace in the aisle."We are being scattered to the four winds," says one.
Unasa, a senior minister in the national Methodist movement, feels first-hand the anxiety of the parishioners and offers comfort by addressing it in his sermon.
"Why should we fear when there is change and there is uncertainty, if the Lord is our shepherd?" he says.
He keeps his sermon short, then slips out of his robes and into a suit and heads across the bridge. On the trip, the metamorphosis from preacher to politician is less Superman, than crazy man, he says.
At the Mt Eden Methodist Church, the steps serve as a stage for his campaign launch. Friends and family gather on the pavement , and, with motorists stuck in the Sunday traffic, hear a passionate speech. "Some have already said to me, you're just a reckless, crazy Pasifika man with nothing better to do with your time or energy."
Unasa is well prepared, with a good grasp of the issues facing Aucklanders.
"We cannot talk about inclusion in our city ... nor can we talk about inclusive leadership (when it is) motivated by political calculation and cozy alliances."
Afterwards, in a sign that his mention of inclusiveness is more than just talk, he invites a minor rival candidate to join him on stage.

Sticking your neck above the parapet, or the pulpit, is not the Pasifika way. But UNasa has been defying stereotypes all his life. Born in the tiny village of Matafa'a, on the Samoan island of Upolu, Unasa moved to Auckland aged nine. His father, a migrant worker, worked at the Westfield freezing works that would give Uesifili his name - Uesifili is a Samoan transliteration of Westfield.
He attended Kelston Boys' High School and the University of Auckland. His parents hoped he would become a lawyer, but he chose a career in the church, training in the Methodist Church in Samoa, before he eventually settled in Mangere, south Auckland. His sons Uesiliana, 21, and Hanson, 19, were both educated at Auckland Grammar and King's College and are studying at the University of Auckland.
Being a man of the cloth, a senior Methodist superintendent and the first Pacific man to hold several senior positions in the church, Unasa has gained a solid understanding of the ins and outs of politics.
"The church is very political," says Unasa, who found himself a "lone ranger" supporting gay marriage in the Pacific church community. "It's not about whether I'm black or white or liberal. It's a justice issue, with people living freely and liberated in the society that they want to live in. It's never been solely about theology."
He sees the closure of the Beach Haven church as evidence of a wider struggle to balance economic reality and the impact it has on real people.
Unasa is something of a paradox. A man who wants to represent south Auckland, in particular the Pacific communities, but lives in Parnell, sent his children to private school and is the chaplain at the University of Auckland. But this is what modern-day Auckland is all about, he says.
"Living in Parnell, working at the university I probably can be seen as being disconnected from south or west but the Pacific people know there's no disconnection. I don't pretend to be anything but what I am. The very issues that we are faced with will be resolved by aspirational ambition and achievements. I can say I've actually got the proof of what Pacific people can be in this city. We're Aucklanders and no one needs to tell me that I'm a disconnected Palagi."
Race, religion and politics sit easily with Unasa, as do his Samoan and south Auckland roots with his Parnell, university life. It's all part of the new Auckland that needn't be defined by which school you attended, where you live, or what your skin colour is.

Uesifili Unasa
• Campaign slogan: A better Auckland for everyone
• Key policy: Strengthen the Southern Initiative, a plan to tackle poverty, education failure, housing overcrowding, youth unemployment in South Auckland.
He says: "Youth educational failure not only impacts on families and communities concerned, but on the whole Auckland region and its future."
On his first day as mayor, Unasa would carry out a review of the mayoral office advisors and staff.
• Blue Sky thinking: Unasa wants to spend $40m-$50m on a flagship convention centre on the waterfront to house all of Auckland's cultural festivals.