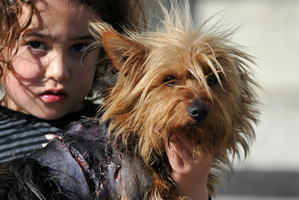 A tiny terrier has survived an attack with a weapon thought to be a machete.
Milo needed 38 stitches to a massive cut from behind her shoulder blade to the bottom of her ribcage after being found by a neighbour outside her owner's house in Gisborne.
Milo's owner Katie Knight said she heard a "horrific yelp" about 9.30pm one night last week.
When she saw Milo she first thought the dog had been caught in a culvert, but she was told by neighbours something much worse had happened.
"It's pretty scary to think someone was walking around with a knife like that. It's horrific. Milo can harm no one," she said.
The neighbour who found Milo, said the injury was a near-death situation.
"If the blade had been a centimetre closer to her spine, it would have severed her spine," said the neighbour, who did not want to be named.
Mrs Knight said Milo was an important member of the family.
"It will be a long time before she trusts other humans again."
Police had been told of the attack.