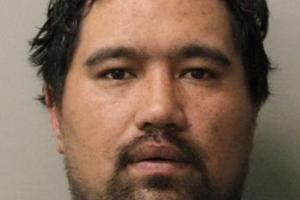 Family members of convicted killer Phillip Layton Edwards, who is on the run after allegedly abducting a 2-year-old boy in Auckland yesterday have been asked to phone police if they know where he is hiding out.
Basic "door-knocking" by new police graduates has been credited for the rescue of toddler Gabriel Witehira-Donnelly, the son of one of Edwards' friends, after he was found at the rear of an Oran Rd property in Panmure about 7.30pm.
Gabriel was taken about 12.15pm yesterday from his mother's Coates Crescent property in Panmure.
Police said the officers managed to locate the toddler in a shed after hearing his cries.
"Thinking the child might still be in the company of the man who had taken him, they called for backup then retrieved the little boy from an open box he was crouching in," police said.
"Access to the shed was not straightforward as the shed door was damaged and locked, although there was a gap between it and the frame."
He was frightened and shivering but unharmed, police said.
Edwards, 33, is still on the run from police.
A manhunt is underway for the convicted killer, who was released from jail last year after serving a nine-year term for the manslaughter of fashion designer and former television host David McNee, 55.
A helicopter has been searching today while officers have checking on locations and connections that Edwards may be trying to link up with.
Police have also asked members of the local Panmure community to check their outdoor areas for any sign of him.
Detective Inspector Scott Beard was "strongly advising" any family or friends who might be tempted to assist Edwards to think again.
"If anyone, including family or friends, is tempted to assist Phillip they need to seriously consider the implications for themselves and, instead, contact us or tell him to give himself up," he said.
Edwards was last seen wearing a navy blue jersey, black jeans, white Nike shoes and carrying a grey hoodie.
Investigating officers have set up an 0800 number - 0800 332 334 - and anyone who has information about Edwards is urged to call either that or 111 immediately.
- APNZ