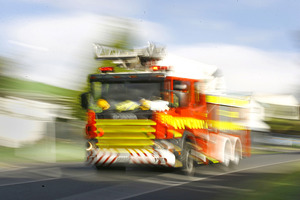 The death of a woman in a Tararua house fire yesterday is a "tragedy'' for the community, locals say.
Diane Henricksen, 61, died in the blaze at her home in Pongaroa at 2.45am.
Volunteer firefighters and emergency services arrived to find the home well alight.
Desperate attempts were made to get everyone out of the house after the wooden house became engulfed in flames.
Mrs Henricksen's husband John and eldest son Carey, who were also in the house, escaped.
Tararua District Mayor Roly Ellis said Mr Henricksen was being comforted by his brother who lived nearby.
"This is an absolutely tragedy for one of our highly respected farming families out here,'' Mr Ellis said. Pongaroa residents would come together to support the family, he said. "This is a family with many links to the community.''
Mrs Henricksen was a stalwart of the Horoeka/Ti Tree Point Women's Institute and would be sadly missed, fellow women's institute member, Diane Bowie said.
Dannevirke CIB and the Fire Service were investigating the cause of the fire, said Tararua Senior Sergeant Nathan Davis.
Central police communications spokeswoman Sara Stavropolous confirmed three adults were in the house at the time of the fire.
"The priority was locating and recovering the body of the victim yesterday,'' she said.
The property had been kept under guard overnight, but police said there was nothing to suggest it was suspicious.
For more articles from this region, go to Hawkes Bay Today