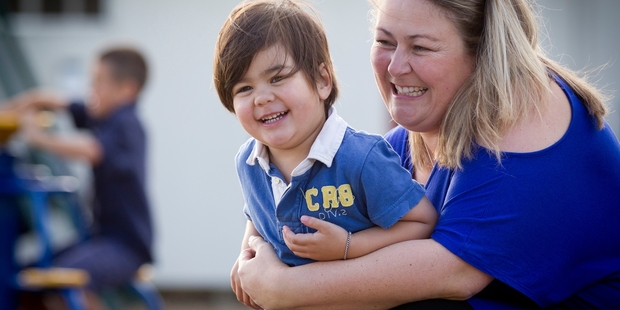 Young Jimi Samuels changed remarkably after he had a battery-powered device surgically inserted to treat a problem with his heartbeat.
"He was tired, he was pale and he wasn't keeping up with his [older] brother and sister," said mum Sarah Samuels, of Pt Chevalier in Auckland.
When Jimi was just over a year old, a heart murmur - an abnormal heart sound - was detected.
This led to tests at the Starship children's hospital and, some weeks later, after breathing and heart-rate problems at home, the diagnosis of "heart block". The electrical problem caused an abnormal rhythm and very slow beat.
"One of his symptoms [was] lying on the ground because he was dizzy."
In June two years ago a pacemaker device, to help correct Jimi's faulty heart rhythm, was implanted into his abdomen. The dramatic results were soon apparent.
"It was like they had put batteries in him," said Mrs Samuels. "After he got over the initial surgery and anaesthetic and the pain, he was full bore. You couldn't stop him.
"He went from sleeping three times a day, to once a day. His energy levels went up."
But Jimi, now 3, has to be careful. He isn't allowed to play contact sports because of the risk of damaging the pacemaker. And he gets tired and sick easily. He has regular checks and the device will have to be replaced when he is a teenager.
Mrs Samuels has told Jimi's story publicly to draw attention to the work of @Heart, the support group for children with heart problems and their families. She said she had benefited greatly from the group.
"You do become paranoid as a mother. Having the support of other mothers going through similar experiences is amazing."
The charity is running an awareness and fundraising campaign.
Chief executive Lorraine Warshaw said that each year only three or four children aged under 10 had a pacemaker implanted, either to correct congenital heart block - a missing electrical link - or after heart surgery that had broken the connection.
About 600 babies are born each year in New Zealand with a congenital heart defect. Other children develop heart problems after rheumatic fever.
Donations to @Heart can be made online via shakeabucket.org.nz.
- Martin Johnston
Charity offers eftpos for cashless donors
"I've got no cash on me, sorry" will no longer be a valid excuse for walking past charity collectors, some of whom will now be equipped with mobile eftpos terminals.
Childhood heart condition charity @Heart today becomes the first to introduce the technology, as charities struggle to come to grips with an increasingly cashless society.
"What we discover more and more is that people don't have cash in their pocket so they don't put that gold coin in the bucket," said chief executive Lorraine Warshaw.
The charity's annual "Heart Stopper Challenge" fundraiser had seen a 20-30 per cent decrease in donations in the past few years, a trend other charities were also experiencing.
"The global financial crisis has really impacted the amount of money people are giving," Ms Warshaw said.
"That's why being able to give them another way to make a donation will be so helpful. Also, those donations hopefully will be larger than the loose change people have in their pocket ... people are unlikely to give 20c and things like that on eftpos."
@Heart national branch co-ordinator Julie Neilsen, who was collecting at Auckland City Hospital yesterday, said it was getting harder to raise money in the traditional manner.
People weren't carrying money around anymore, yet there were more street appeals than ever, she said.
Visa organised for @Heart to use 20 "payWave-enabled" eftpos terminals for free for its street appeal around Auckland, Christchurch and Wellington and provided training on how to use the machines.
The Breast Cancer Foundation will also have portable eftpos machines at some key collection points for its Pink Ribbon appeal in October, including "tap-and-go" technology.
"I think it'll help address the problem of people not carrying cash these days, and people who want to give but can't, it gives them a chance to support," foundation spokeswoman Adele Gautier said.
Fundraising Institute of New Zealand chief executive James Austin said the implications of the new technology were great.
For example, making claims for tax deductibility would be less hassle, as electronic donations could be tracked with relative ease.
"The average donation a street collector shaking a tin may get - if they're good and it's good weather - is about $100 an hour. That's pretty good, but I would hope that would go up significantly with these new machines."
However, he said the cost of the terminals needed to be taken into account as they were unlikely to be free in the long-term.
- Matthew Theunissen