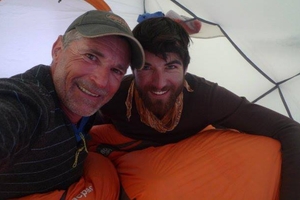 The world's most perilous peak will be the final resting place for a New Zealand father and son who were attempting to scale it.
The point Marty and Denali Schmidt reached on K2's Pakistan side is too treacherous for a recovery, so the climbers will remain there, buried beneath the snow.
Marty, 53, and Denali, 25, had hoped to be the first father and son team to reach the peak, but they were killed in an avalanche at the weekend. They were about to make the final push for the summit.
Pakistan Alpine Club president Manzoor Hussain said Camp 3, where the pair's tent and gear were found, was on a dangerous ridge.
There was a constant risk of avalanches in the area and all activity on the mountain has been suspended.
New Zealand Alpine Club general manager Sam Newton said it was too early to start talking about memorial services, but the local mountaineering community would support the family's wishes.
Marty Schmidt would be remembered for his deep love of mountains.
"He was an inspiration to many climbers and he had a unique, holistic view towards guiding."
Mr Schmidt loved climbing so much that he spent his time off scaling peaks.
Mr Newton said Mr Schmidt often spoke of how proud he was of Denali and how much he enjoyed being able to climb with his son.
The deaths have rocked the climbing community, with many saying they never expected Marty Schmidt, a professional guide and extremely experienced climber, to be one of those claimed by the mountains.
Mr Schmidt, born in California, divided his time between New Zealand, the US and Canada. He is survived by his wife, Giannina Cantale, and daughter Sequoia, 22.
Daan Dijkstra had been sending out the climber's messages, and on Monday night sent the one he "dreaded the most".
Marty Schmidt had sent two texts over the last week that talked of bad weather but excitement that they would soon make it to the summit.
"With all his experience and skills the rumours simply couldn't be true ... We all know that mountaineering comes with risks, especially at high altitude, but somehow Marty seemed invincible," Mr Dijkstra said.