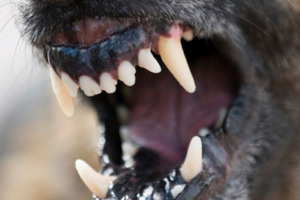 A Methven couple whose dangerous dogs attacked five people have been convicted and ordered to pay two of their victims a total of $4000 for medical help and counselling.
It will be up to Ashburton District Council whether Graham Leslie van Duinen, 51, and Sharon van Duinen, 39, can ever own a dog again.
Their two mastiff-cross dogs were released from their Methven property in February by their 8-year-old son and attacked two children, a teenager who came to their rescue, a tourist and a council ranger.
In Ashburton District Court yesterday, the van Duinens each admitted five charges of owning dogs that attacked, rushed and injured people.
The case was being handled through the restorative justice programme and the couple had agreed to pay $4000 to cover the cost of medical and psychiatric counselling the two child victims now need.
Judge Jacqui Moran said while the van Duinens had limited financial means, and could pay the reparation at only $10 a week, the amount reflected the gravity of the offending.
She said the victims were significantly harmed by the dogs, not only physically but emotionally.
"The emotional harm is extreme, and particularly for those two young children. They continue to experience flashbacks and major fear, and have to attend counselling along with more medical issues. And that is something that will be ongoing," Judge Moran said.
She said the couple's two dogs had been categorised as dangerous but they had failed to take precautions to keep them secure.
The dogs have already been put down.
Michelle Barrell, lawyer for the couple, said their son had released the dogs without their knowledge and they had gone to great lengths to secure the dogs with fences and chains.
The dogs savaged two children, biting and dragging them to the ground. Three passing teenagers intervened and put the children in their car, then the dogs went on to bite a 67-year-old tourist, who needed 25 stitches.
A report to the court suggested a life-time ban from owning dogs, but Judge Moran said that could be imposed only by Ashburton District Council. Police had asked for a five-year ban.
Restorative justice co-ordinator Kevin McMahon said the two youngest victims of the attack were still emotionally traumatised and the parents were seeking professional help for them to recover. "That will cost money."
The Canadian tourist injured in the attack has already had her medical costs reimbursed.