Claiming damages would be a difficult and uncertain mission for blast survivors and those left to mourn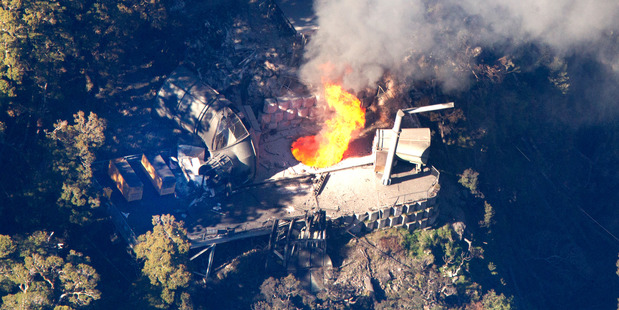 The two survivors and the families of the 29 Pike River dead could seek damages or compensation, but the claims would be beset with hurdles and the outcome uncertain, a leading law expert says.
"All avenues would be considered," Nicholas Davidson, the Queen's Counsel acting for the families, told the Herald this week.
He did not want to comment on the possibilities, but noted that the judge hearing health and safety charges against the mine-owner had expressed a finding on uncontested facts that certain defaults contributed to the disaster. "That's what we didn't have before."
Police this week announced that criminal charges would not be brought because of uncertainty about the exact cause of the explosion and because they had struggled to link the cause or causes to any individuals.
Pike River Coal Ltd has been sentenced on health and safety charges and ordered to pay $3.41 million in reparation to the families of each victim and the two survivors.
But the company is in receivership and has only $500,000.
The only current case yet to be determined is 12 health and safety charges against Peter Whittall, who became Pike River chief executive seven weeks before the explosion.
Civil action appears the only remaining avenue for the families and the survivors but is fraught with difficulties.
Normally in cases of death or injury, victims can't sue for damages because of New Zealand's accident compensation scheme. An explosion in a mine fits the bill as an accident.
This was also true of the Cave Creek disaster in which 14 people died in 1995, but in that case the Government paid out because it was a high- profile tragedy and there appeared to be negligence by a Government department.
But, says University of Canterbury law professor Stephen Todd, there was no strict legal obligation to make these payments.

The ACC bar
The starting point is that suing for damages for personal injury is barred by the ACC scheme, which was enacted in recognition of the cost to society that can come of a search for fault and causation.
"There is no doubt that that is the basic position here," says Todd, a specialist in the law of torts, the law of negligence and the relationship between the accident compensation scheme and the common law.
But the ACC bar doesn't apply to claims for exemplary damages - awarded to punish for negligent behaviour resulting in death or injury - or in many circumstances involving "secondary victims" such as families.

The survivors/exemplary damages
This avenue may be available to survivors Russell Smith and Daniel Rockhouse, but not to those who died and their families because deceased estates can't claim for damages.
A suitor would have to identify the negligence and a negligent party. The court would need to find that there was such a degree of fault that a financial penalty is warranted as punishment. The legal bar has been set high.
The leading case is that of Susan Couch, the sole survivor of the RSA murders in Panmure in 2001.
Couch alleged a Government department was negligent by failing to monitor and recall her assailant, William Bell, for parole breaches before those crimes. Couch accepted $300,000 from the Corrections Department to settle her claim. Had it gone to court, said Professor Todd, there would have been significant hurdles for her to overcome.
One issue is how culpable a defendant has to be. The Supreme Court set a high standard, ruling that "advertent or reckless misconduct" had to be proved. The Pike River survivors would need to show that more than negligence - some deliberate or at least advertent or reckless conduct - gave rise to what happened in order to get exemplary damages.
If the claimant succeeded, another issue would be the ability of the negligent party to pay. If an individual was found to be negligent, the individual - rather than the company - was normally liable.

The bereaved families/secondary victim claims
A claim for compensation could be made on the basis that the claimant suffered severe mental impact as secondary victims of the disaster. ACC covers this only in certain circumstances, such as for trauma suffered as a result of a sexual violation, or when an employee suffers shock from seeing a colleague killed or maimed.
This, too, is difficult to prove. Recent English case law evolved from cases involving the 1989 Hillsborough football stadium disaster, in which a crowd crush killed 96 people and injured 766 others.
The House of Lords said claimants had to prove a close relationship of love and affection to a victim and had to have seen the event or its immediate aftermath. Hearing about it was insufficient.
Australian courts have taken a more liberal view and have left open claims by those who suffered as a result of shock from learning about it. It has yet to be determined which rule applies in New Zealand.
Family members would have to prove they suffered a severe traumatic impact as a result of someone close to them dying in the mine.
For each of these courses of action the plaintiffs would have to identify a legitimate legal target, and one with the means to pay damages or compensation that may be ordered.
"You can talk about insurance, you can talk about shadow directors, about all sorts of people who you may try to say have a duty of care and therefore a legal duty," a senior barrister who did not want to be named told the Herald. "There are all sorts of people potentially in that category. For each, their duty of care will differ. These are all difficult questions.
"And finally, if you get judgment, you have a question of recovery. Who has an insurance policy to cover this and is the insurance policy still alive? All of these are big hurdles."

Reparation
Pike River was ordered to pay $3.41 million $110,000 for each family for health and safety failings that led to the deaths of 29 miners in November 2010 but can pay only $5380 each.
Sentencing judge Jane Farish suggested shareholders pay and noted Pike's biggest secured shareholder, NZ Oil and Gas (24.9 per cent), was in a position to pay reparation. Last August, NZOG posted a full-year profit of $19.9 million.
But Professor Todd said it appeared a dead issue legally, as the ruling was against Pike River, a limited liability company.
NZOG appointed receivers to Pike River Coal and eventually received a $42 million share of an insurance payout.
It made $9 million available to unsecured Pike River creditors and contributed $1 million to a crisis fund.
NZOG was neither a party nor a witness to the prosecution of Pike River and was not named by the royal commission of inquiry as a culpable party.