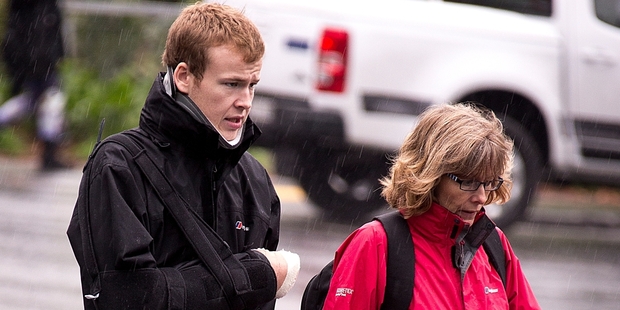 The moments leading up to his plunge from the 15th floor of an Auckland apartment building remain a mystery for English tourist Tom Stilwell.
Despite falling for 13 storeys before a corrugated-iron roof broke his fall, Mr Stilwell was left with just minor neck and wrist injuries after the early-morning incident on June 16.
After a night out drinking, Mr Stilwell realised he was locked out of his Auckland city unit and, at 2am, woke neighbour Geraldine Bautista, who lived on the 15th floor of the Volt building, directly above him.
Ms Bautista told the Herald he wanted to lower himself from her balcony on to his, but seconds into the attempt, he fell.
"What possessed me to try it, I don't know because I know it would have been impossible," Mr Stilwell told Woman's Day.
The last thing he remembers from the night was being in a city bar with his flatmates, fellow Brits Dave Thomas and Beth Goodwin, both 22. He doesn't remember why he left on his own.
According to his flatmate Mr Thomas, when he awoke in hospital and a nurse told what had happened, he wrote on the board he was using to communicate: "What an idiot."
He broke bones in his back, neck, elbow, hand and wrist, and received a collapsed lung, lacerated kidney and broken collarbone - but weeks after the fall wears just a neck brace and has one arm in plaster.
His parents, Pauline and David, came to New Zealand to see their son.
"He's not an idiot," Mrs Stilwell told the magazine. "He's a lovely, level-headed boy - not a drinker, not a risk-taker."