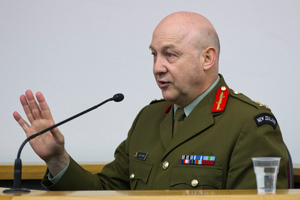 A jury in the defamation case against Defence Force chief Lieutenant General Rhys Jones by a freelance journalist has retired for the evening after going out to consider their verdict this afternoon.
Journalist Jon Stephenson is seeking $500,000 and costs from General Jones in the High Court at Wellington.
The jury of five women and seven men began their deliberation about 3.30pm.
Stephenson is suing General Jones for defamation over a Defence Force statement about articles written by Stephenson during 2010 and 2011.
One of the articles, which featured in Metro Magazine in 2011, described how SAS soldiers transferred Afghan detainees to authorities who tortured them.
A statement issued by General Jones in response denied Stephenson had performed an interview with the commander of a crisis response unit in Afghanistan.
It also stated that he had never entered the base where the meeting took place.
Three articles written by Stephenson had been based on this interview.
Since hearing evidence from Stephenson, General Jones' lawyer Hugh Rennie QC said the general had accepted the journalist entered the base and conducted the interview.
Stephenson's lawyer Davey Salmon told the jury in his closing submission today his client's integrity had been attacked by an organisation with special privilege in New Zealand.
Mr Salmon said Stephenson had been defamed by the statement, which called into question his integrity and reliability as a journalist.
"For a journalist, the suggestion that you've made up an interview ... goes to the the heart. It's a dagger through the heart.
"This is about putting right someone saying something bad, especially when they won't take it back or make a statement.''
Mr Rennie told the jury the case was about money and the statement had not resulted in any injury or losses to Stephenson or his career.
The jury will continue deliberating tomorrow.
- APNZ