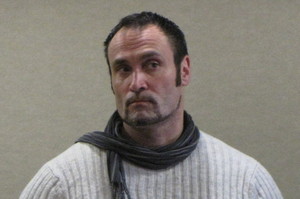 The trial of Queenstown bouncer Jonathan Dixon was postponed temporarily yesterday after he fired his lawyer.
Dixon (42), who shot to fame in 2011 after posting footage on the internet of England rugby player Mike Tindall, the husband of the Queen's granddaughter Zara Phillips cavorting with an ex-girlfriend in the Queenstown bar where Dixon worked as a bouncer, is facing two charges.
He is accused of assaulting Jordan Kees Sinke with reckless disregard for Mr Sinke's safety, and assaulting Mr Sinke's friend, Thomas Ian Beatson. Both assaults are alleged to have occurred in a Queenstown bar about 3am on January 21 last year.
Dixon has denied the charges and a trial began in the Invercargill District Court yesterday before Judge Kevin Phillips and a jury of eight women and four men.
Several witnesses had been heard when, about 3.15pm, defence counsel John Westgate, of Dunedin, said he had something he needed to tell the judge.
The jury was ushered out and the court cleared.
When proceedings resumed about 30 minutes later, Judge Phillips said Dixon had indicated he wanted to "dispense with Mr Westgate's services" and represent himself. He asked Dixon if he was sure he wanted to do that, saying he believed Mr Westgate was doing a good job of representing him.
When Dixon replied he was sure, Judge Phillips told Mr Westgate he was released from his obligations to Dixon.
But he said Mr Westgate would be retained until the end of the trial to "keep a watching brief" and assist the court overall.
The case was adjourned until today. Dixon was bailed overnight to an Invercargill address.
Approached after the court adjourned, Mr Westgate would not say why Dixon had fired him.
"These things happen," he said.
He said he only heard about it just before he told the judge.
Asked if he was surprised at Dixon's decision, Mr Westgate replied: "Nothing in this job surprises me."
Dixon, who was standing next to Mr Westgate, said he had no issues with the way Mr Westgate had represented him, calling him "an outstanding lawyer". However, he would not say why he had chosen to fire him.
The assault charge involving Mr Sinke hinges on whether Mr Sinke, who had been drinking with a group of friends that evening, was assaulted by Dixon or might have fallen and hit his head on the concrete floor of the Subculture bar.
For the Crown, Mary-Jane Thomas told the court Dixon contended Mr Sinke had provoked him by calling him names and trying to punch him in the chest and kick him in the genitals. Dixon contended he had tried to restrain Mr Sinke by holding his arms at his sides and standing on his foot.
Mr Beatson said he was standing about 4m-5m away from Mr Sinke and did not see him fall. He said he did not see any altercation between Dixon and Mr Sinke and thought he would have seen it had it happened.
He saw Mr Sinke lying on the floor and went over to see what was wrong. Dixon was "standing over" Mr Sinke, he said.
Mr Beatson picked up Mr Sinke's hand and became alarmed when it was limp. He said Dixon then struck him on the jaw and he fell over backwards. Mr Beatson said he "went right back" at Dixon and yelled at him to leave the bar.
Mr Westgate asked Mr Beatson if Mr Sinke could have fallen to the floor and Dixon was trying to help him and keep anyone, including Mr Beatson, from trying to lift Mr Sinke off the floor. Mr Beatson agreed that was a possibility.
He agreed with Mr Westgate that he had made an assumption that Dixon had assaulted Mr Sinke because Dixon was standing over him. But he said he did not see Dixon trying to give Mr Sinke first aid or putting him in the recovery position.
The trial is expected to finish tomorrow