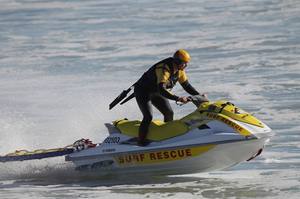 A spate of burglaries of emergency service equipment in the Auckland region has upset staff who say they'll struggle to perform rescues without it.
The Waiuku Volunteer Fire Brigade is the latest target after workers discovered missing equipment during a call-out on Sunday.
A portable defibrillator had been taken from the station's two fire trucks as well as two hand-held radios and four high-visibility jackets.
Chief fire officer Colin Riddle said he believes the equipment was stolen when the trucks were parked outside the station on Saturday between 1pm and 3pm while volunteer firefighters were having a celebration inside.
"It's very discouraging. They (the thieves) had obviously been drinking because we found two 8 per cent Cruiser bottles."
The local St John ambulance service has loaned the service a defibrillator while police investigate.
On Friday, staff at the Northern Region Surf Life Saving Club in Mechanics Bay discovered one of their jet skis was missing.
Life-saving and club support manager Tom Burgess said it will cost about $20,000 to replace the Yamaha VX700 which was a vital piece of rescue equipment. "As a charity we can't easily replace expensive gear like this and we desperately need to get it back in time for summer."
He said the theft was a "theft from the community" and could be the difference between life and death.
In May, the Piha Surf Life Saving Club was broken into and three quad bikes and two inflatable rescue boat engines, worth about $60,000, were stolen from an equipment shed.
Rescuers had to drag the rescue boat 300m to the water, after they discovered the equipment missing, to reach four distressed men.
Police are urging anyone with information regarding the thefts to come forward.