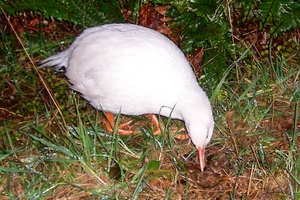 An albino weka has been sighted near Karamea.
It was photographed by Wayne Bird, of Little Wanganui, who says the pure white weka looks to be in good health and is possibly a full grown female.
It did not appear to have trouble with its vision and has only been seen at night fossicking for worms in the wet undergrowth.
Weka researcher Scott Freeman, of Westport, said although its rarity meant no one had studied albino weka before, it could have a lifespan of a normal weka.
Dr Freeman said the bird was the third confirmed albino weka on the West Coast and one of only a few on record.
However, it could be more prone to predation, especially from harrier hawks and possibly falcons, because it stood out starkly in open clearings or in patches of sparse undergrowth.
He said it would be nice if people could keep an eye out for the bird rather than try to capture it.