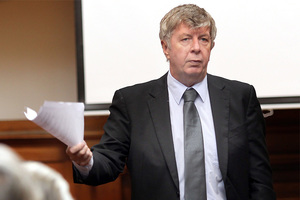 The Government has no idea how long illegal building consents were being issued by Christchurch City Council or how many have been issued.
Last week International Accreditation New Zealand (IANZ) withdrew the council's ability to issue consents, because of concerns over technical processing that meant building consents might not meet the requirements of the building code.
On TVNZ's Q+A programme today, Building and Construction Minister Maurice Williamson said some external technical experts were brought in to try to evaluate the size of the problem.
He said the government did not even have a "ballpark" figure of the numbers of permits involved or for how long they were being issued.
"It might be that we go right back to the earthquakes," he said.
" [I] don't think we're talking hundreds of thousands, but we're talking a big number. We don't know what that is. It would be foolish of me to put a commitment on that."
It was unlikely unsafe buildings had been built as a result, but he could not guarantee that, he said.
The problem stemmed at senior management level where there was a "culture of denial", he said.
"Let me stress right away, this is not the people working down at the grass roots. I went and spoke to them on Thursday afternoon, and I told them, 'Don't you feel bad.' It's like blaming the guy stoking the boilers at the bottom of the Titanic that somehow hit the iceberg."
Heads have already started to roll with Mayor Bob Parker electing not to stand in the next local body elections and the council's chief executive Tony Marryatt taking "gardening leave", Mr Williamson said.
"We are now going to, because we've been invited, to put a Crown manager in.
"So we'll appoint that person in the next week, get it gazetted hopefully by Thursday, and that person will be able to go in and take control of the management structures."
- APNZ