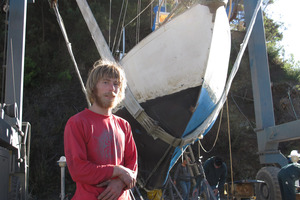 An American overstayer has been banned from sailing from the Bay of Islands for the Pacific Islands because his yacht is unsafe.
The restrictions on Sean D'Epagnier and his 8.2m Bristol sailboat Alexandra come as questions are asked about whether foreign-flagged vessels should be better checked for seaworthiness before they leave New Zealand.
The Herald on Sunday has learned of concerns in the yachting community about the state of the missing schooner Nina before it left New Zealand.
A source who did not want to be named said the 85-year-old schooner had not been out of the water for three years and was starting to show structural failings, even though it was in immaculate condition above the water.
Maritime NZ said yesterday that the search for Nina had been suspended.
The six Americans and one Briton on board the United States-flagged yacht have made no contact since seven days after leaving the Bay of Islands for Australia on May 29.
Maritime NZ regional compliance manager Deane Ingram confirmed the agency was involved in the Alexandra case.
The authority spoke to owners of foreign-flagged recreational vessels if there were concerns about safety and could put a detention notice on them, he said.
"We do it on behalf of the New Zealand public because ... the cost of search and rescue far exceeds the cost of a maritime officer spending a day checking the vessel."
That had to be balanced with wanting to maintain New Zealand's popularity as a destination for recreational sailors. "We don't want to deter them from coming."
Ingram said they had not been told of any problems with Nina, nor did he know if the missing yacht had had a category one yacht survey, as was required for New Zealand-registered vessels before they left home waters.
Whangarei marina sources rated Nina skipper David Dyche very highly.
The Nina did meet at least one requirement of the survey - it was carrying a manually-activated emergency locator beacon.
The beacon had not been activated, he said.
"If it had we'd know where they were within 10 to 15 minutes."
An Immigration NZ spokeswoman said the department was working with D'Epagnier and had agreed he could live on his sailboat in a Bay of Islands boatyard while a seaworthiness inspection took place. His visitor visa expired in February.
D'Epagnier was working on his dry-docked yacht in Opua yesterday, but declined to comment.
He has told friends he wants to leave New Zealand but has been told he must check metal around his rudder is not corroded and install a new light on his mast.
The move has outraged one of his friends, off-shore cruising sailor advocate David Howie, who believes Maritime NZ is making a political example of D'Epagnier.
"I think they've pulled this out of the drawer," he said. "I know there are some people at Maritime NZ who want to use this."
Classic Yacht Association of New Zealand committee member Ian Gavin said he was undecided about whether the seaworthiness rule should be extended to foreign-registered boats.
"It's a hard one because we have such a large piece of ocean that we are responsible for. But we've also got to make sure we're not becoming too much of a nanny state and going overboard with the rules."

Seagoing sagas
January 2011: Malcolm Waddilove went missing after leaving Opua for Australia. Northland coroner Brandt Shortland found the British sailor probably drowned after setting sail on a yacht that was "not seaworthy".
May 2013: The historic schooner Nina leaves Opua with seven people on board. After the crew stops communicating by radio and satellite phone, an extensive air, sea and coastal search is launched. Maritime NZ suspended the search yesterday, with no sign of the Nina or its crew.
July 2013: Maritime NZ bans American overstayer Sean D'Epagnier from sailing out of the Bay of Islands, because his yacht is deemed unsafe.