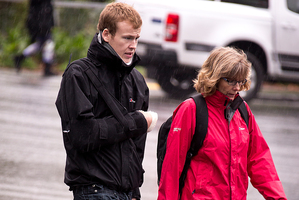 The survivor of a 13-storey fall from an Auckland city apartment building has been seen out and about just days after he was released from hospital.
English tourist Tom Stilwell, 20, was seen walking around the city wearing a neck brace and arm cast yesterday - less than three weeks after he fell from a 15th floor apartment on to the roof of an adjacent building.
Mr Stilwell was released from hospital on Monday, and has been joined in New Zealand by his mother. His father, David, told the Herald he also planned to visit his son this month.
Because of an agreement with an English tabloid, Tom was unable to speak about the fall, which came after he was locked out and tried to lower himself from a balcony.