Coroner says behaviour of friends who left trapped man to drown beneath crashed car was disgraceful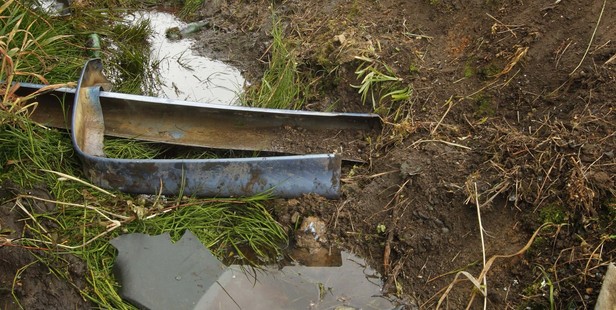 The mother of a man whose body was left behind at a crash scene - and discovered only after a passing school bus driver saw a hand sticking out of a drain - says she remains traumatised by the incident.
George Porter of Opotiki died on December 8, 2011 when he drowned in a roadside drain under the vehicle from which he was thrown.
A coroner yesterday condemned the actions of Mr Porter's two mates who were also in the car and did not tell police at the scene about their missing friend.
Clara Porter was too upset to attend the inquest into her son's death but later told the Weekend Herald she remained unhappy at what had happened.
"It's still there ... it still comes back ... but I can't do anything about it."
The inquest heard how a combination of speed and alcohol proved fatal as the 40-year-old travelled from Opotiki eastward along State Highway 35 with friends Alan Kahukiwa and Guy-John Matchitt.
All had been drinking, and driver Kahukiwa was found to have been more than twice over the legal blood alcohol limit when he lost control of the Nissan sedan, 400m from Mr Porter's home.
Police believe the vehicle was doing at least 110km/h when it drifted off the road on to gravel, before veering back across both lanes and slamming into a bank.
Mr Porter, who was not wearing a seat belt, was thrown from the back seat through the windscreen, before the vehicle rotated and ran him over.
It then came to rest on top of him in a drain, leaving him trapped beneath and submerged in the water.
Police found his two friends to be unco-operative at the scene.
After what they described as an "extensive visual search", police were led to believe there had only been two occupants in the car.
The scene was cleared and emergency services left.
Less than an hour later, Daniel Paruru, who was completing a school bus run with three children on board, saw what he thought was a glove sticking out of the ditch.
"I didn't believe it was a hand - I had my mind made up that it was a glove," he said at the time.
"I'd thought, surely they wouldn't have left a hand there."
Police returned and removed the body. A post mortem examination later found the cause of death was drowning.
Eastern Bay of Plenty road policing manager Ray Wylie told yesterday's inquest that Kahukiwa had been on a learner driver's licence and was in multiple breaches of his licence at the time of the crash.
He was later jailed for two years and disqualified from driving for two and a half years.
Coroner Dr Wallace Bain described Kahukiwa's behaviour as "extraordinary" and "disgraceful", saying to Mr Wylie: "They wouldn't be wanting to know where their mate is ... and they wouldn't tell you?"
Dr Bain reserved his findings, but indicated they would contain "some pretty strong criticisms of the driver".
Mrs Porter, who described her son as "a humble boy", said she had taken the case up with the Independent Police Conduct Authority, which found that police were not in the wrong because they did not know her son was under the car.
She was still receiving counselling to cope with her grief and had resigned herself to moving on from the incident.
"There's nothing more I can do," she said.